High Sheriff of Kent Visits Tenterden Detachment, Kent Army Cadet Force
31st Jan 2019
HIGH SHERIFF OF KENT VISITS TENTERDEN DETACHMENT, KENT ARMY CADET FORCE (KENT ACF)
The High Sheriff of Kent Mrs Jane Ashton took time out of her busy schedule to visit Tenterden Detachment of the Kent Army Cadet Force last night.
She experienced first-hand what an ACF parade night consists of including: drill and turnout, a lesson on Bergan packing for exercise and also had a chance to speak to the cadets and staff about what being an Army Cadet involves.
She also presented Cadet Company Sergeant Major Suzanne Goodsell with the highest star level available, her 4* badge. This is only awarded to the most senior cadets and involves a lot of dedication and hard work. As cadets work through the Army Proficiency Certificate (APC) they can go up through the star levels and get promoted to a higher cadet rank. Cadet Corporal Ryan Hobbs was also promoted to Sergeant.
The High Sheriff said:
"It has been a real privilege to come along tonight to see Tenterden Army Cadets on their parade night. I can see what wonderful opportunities the ACF offers young people and adults in Kent. 
I wholly support the organisation as it provides so many fantastic life skills for young people which are transferable to the work place. Well done everyone". 
Colonel Chris Gilbert, Commandant Kent ACF said:
"I would like to formally thank the High Sheriff for coming along tonight, it is great for us to be able to showcase the hard work and commitment of both the cadets and Cadet Force Adult Volunteers that train them.
We are always looking for young people and adults alike to join us, we offer the chance to learn qualifications such: as DofE, first aid and also BTEC, as well as the fun activities like competition shooting and adventurous training".
The High Sheriff also praised the detachment for raising £1451.72 for the Royal British Legion Poppy Appeal.
Anyone who is looking for a new and exciting hobby should visit: www.kentarmycadets.com to find out more.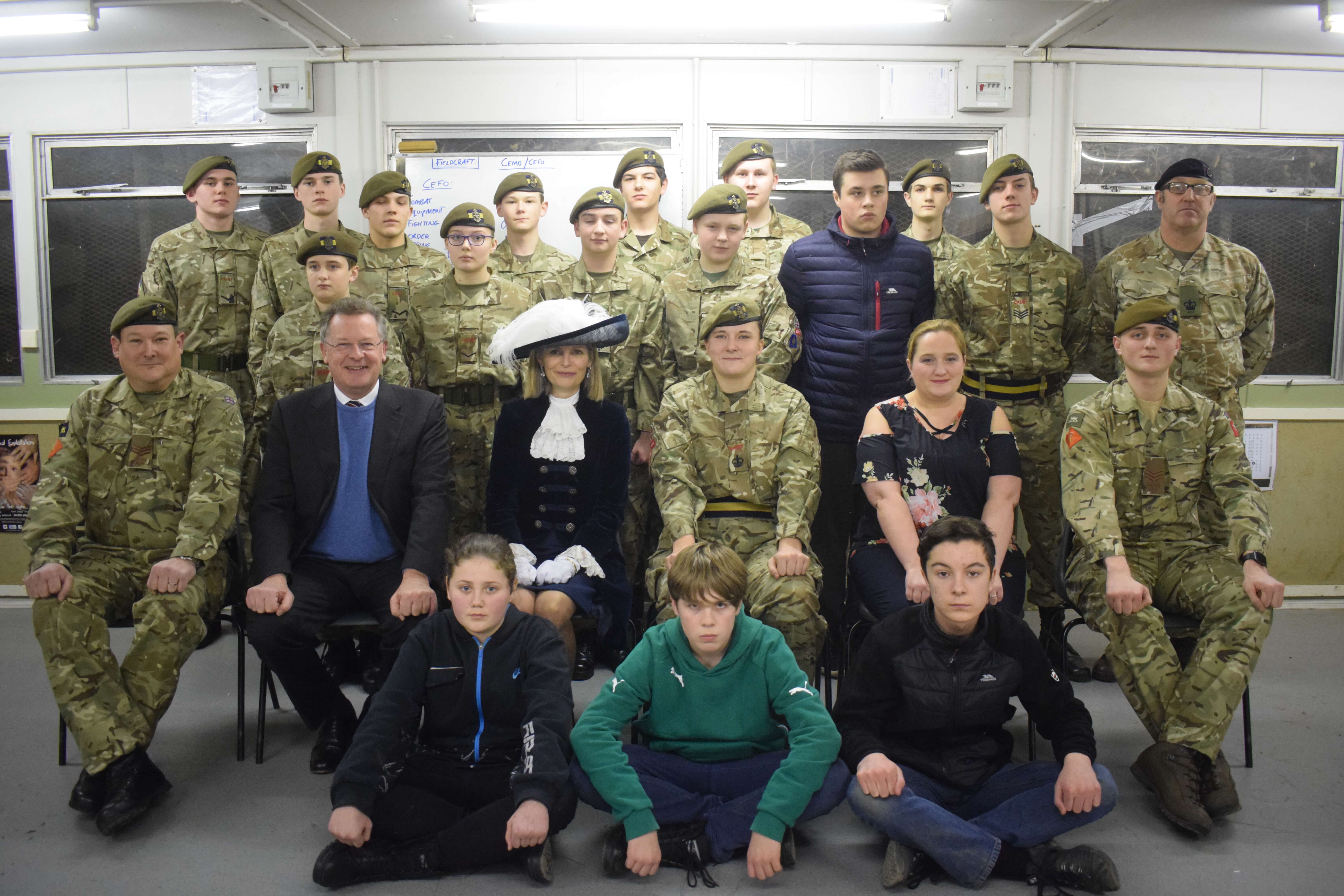 Notes to editors:
Army Cadet Force
For action and adventure, fun and friendship, the Army Cadet Force is hard to beat. With nearly 40,000 cadets (aged 12-18) and 9,500 adults in over 1,600 locations in every corner of the United Kingdom, the ACF is one of the country's largest voluntary youth organisations. It is also one of the oldest tracing its history back to 1859.
Many young people are missing out on the challenges and adventures that could transform their lives but joining the Army Cadets can change that. We welcome boys and girls (aged over 12 and in at least year eight at school) of all abilities and backgrounds. When they join us we encourage them to learn more, do more and try more. We inspire them to aim high and pursue their goals, no matter what they aim to do in life.
Some of our activities have a military theme, others have more of a community focus but they all inspire young people to challenge their limits, become more independent, confident and able to step up to any challenge.
The Army Cadet Force is one of four cadet organisations sponsored and supported by the Ministry of Defence, the others being the Combined Cadet Force, the Sea Cadet Corps, and the Air Training Corps. Although they are sponsored by the Ministry of Defence there is no obligation on cadets to join the Armed Forces.
Contact:
Lt Victoria Robinson
County PRO
T|07973 452 958