In 2019 the UK Parliament declared a Climate Emergency and committed to net zero carbon emissions by 2050 to avoid the worst effects of climate change. In alignment with these commitments, Tenterden Town Council declared a climate emergency and, in 2020, passed a resolution to become carbon neutral by 2030.
We are aware of the significant implications of climate change. We know that not only is it critical to move towards low-carbon living, but there is much to be gained from doing so. Everyone can benefit from working together to improve the sustainability and resilience of our shared environment.
Tenterden Town Council aims to lead by example; reducing its own carbon footprint; adopting measures promoting and increasing sustainability; providing information to assist businesses, third-sector organisations, and residents to make greener choices for themselves.
What we're doing
A Climate Action Advisory Group was established to steer the tasks that will be required to meet the challenges ahead. Our Committee is formed of a highly motivated group of Councillors and residents.
We know that through collaboration and partnerships, we can achieve more. That's why we're working with local experts in the fields of Biodiversity, Energy, Transport, Recycling & Waste Management, who are providing us with knowledge and insights. We've formed invaluable partnerships with Ashford Borough Council and local community and sustainability groups, including Kiln Field Reserve and Wildlife Venues, Tenterden Neighbourhood Plan group, and Tenterden 2030 Civil Society. We're supporting local initiatives such as the Plastic Free Tenterden Campaign to reduce single-use plastics across our town. We're looking forward to extending the range of stakeholders we work with and initiatives we support to facilitate progress.
The committee drew up a Climate Action Plan, which was adopted by the Town Council on 13th February 2023. The plan is a living document to guide research and actions in the short, medium and long term to address issues in our area with the resources we have available and is available to view here.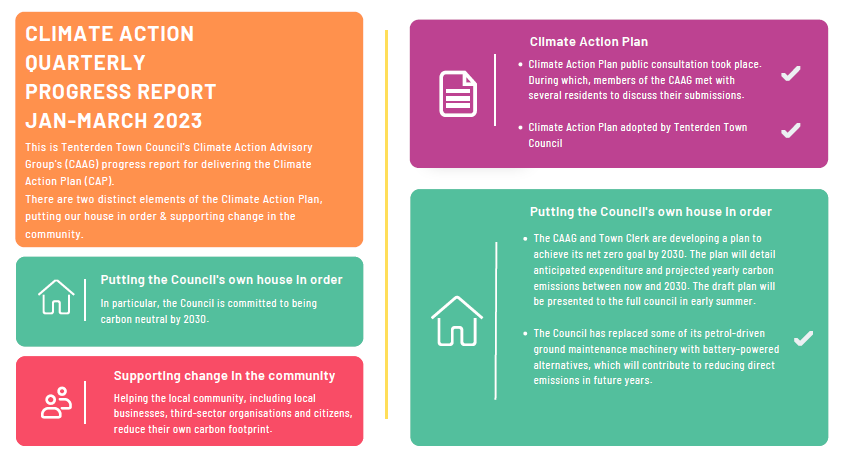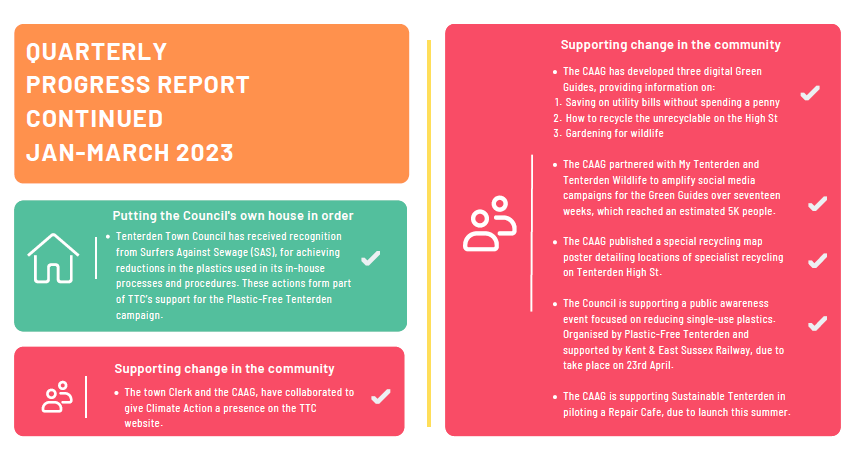 What you can do
We all need to adapt our lifestyles to help mitigate the worst effects of climate change. Every little helps and even small changes can make a big difference. Check out our Green Guides for ideas to get started. Get a warm glow knowing you're doing your bit for the planet, and save yourself some money while you're at it!
There is a lot of work to do, and the clock is ticking. We are keen to hear your ideas and details of projects that are already up and running, so to get involved in sharing your ideas and experience, email the council at townhall@tenterdentowncouncil.gov.uk or write to the Town Clerk, Tenterden Town Council, Town Hall, 24 High Street, Tenterden, TN30 6AN.