Coronation Champions Awards
In honour of Their Majesties' service to the country, Royal Voluntary Service launched the Coronation Champions Awards for volunteers, an official Coronation project. Together with Her Majesty The Queen Consort, the awards celebrate extraordinary volunteers across the country who have been contributing to their communities. The Royal Voluntary Service have awarded 500 of these and winners will be announced in the Daily Mail.
Peter Lake a volunteer at Tenterden's Memory Café, nominated Jan Bridger for a 'Coronation Champions Award' for her unstinting work.
I am pleased to say I attended the Friday Memory Café meeting, where Peter announced Jan had won one of the 500 awards which was highly deserved.
The official letter to Jan Bridger is below.
____________________________________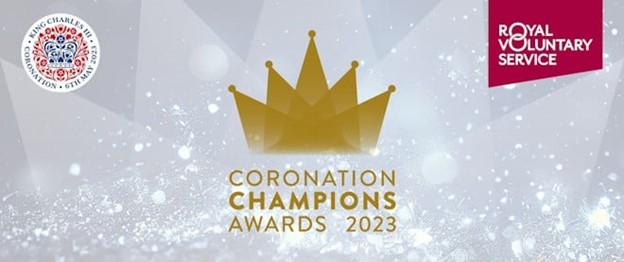 Congratulations, you have been chosen as a Coronation Champion!
Dear Janet,
We are delighted to let you know that you are one of the 500 Coronation Champions! You have been nominated by someone due to your outstanding commitment to volunteering.
Together with Her Majesty The Queen Consort, the Coronation Champion Awards were launched by Royal Voluntary Service to celebrate extraordinary volunteers who go the extra mile to improve the lives of others. Proudly supported by category sponsors Sky, PetPlan and Simply Health the awards recognise volunteers from all corners of the UK and a range of causes.
The entry standard was incredibly high, and we received nearly 5,000 nominations. We think you are truly amazing. In addition, as a Coronation Champion, you have been invited to attend a Coronation celebration
Two seated tickets for the Coronation Concert at Windsor Castle on Sunday 7th May.
As a Coronation Champion, you will receive a specially designed, official Coronation Champions pin and a signed certificate from both Their Majesties. This will be sent to you via post before the Coronation weekend.
Thank you for everything you do as a volunteer. We think you are a hero and hope you display your certificate and pin with pride.
The Royal Voluntary Service Team
~ ~ ~ ~ ~ ~~ ~ ~~ ~ ~~ ~ ~~ ~ ~~ ~ ~~ ~ ~~ ~ ~~ ~ ~~ ~ ~~ ~ ~~ ~ ~~ ~ ~~ ~ ~~ ~ ~~ ~ ~~ ~ ~~ ~ ~~ ~ ~~ ~ ~~
Tenterden Mayor Invited to King Charles III Coronation on Saturday, 6th May 2023
Last September, The Proclamation of the accession of the new monarch, His Majesty King Charles III took place on the balcony of Tenterden Town Hall. It was attended by Tenterden town councillors, as well as councillor representatives from both Ashford Borough Council and Kent County Council in front of a huge crowd.
(Left to right: Town Sergeant at Mace Malcolm Winter, Mayor Cllr John Crawford, Mayoress Margaret Crawford and Cllr Andrew Holcombe)
It is traditional for representatives of the 14 member towns of the Confederation of Cinque Ports to be invited to the monarchs coronation. The last occasion was in 1953 for Queen Elizabeth II, when Tenterden Mayor, Cllr Stanley Day attended. He played a part by accepting the Standard of Ceylon, as the Queen's Procession moved up the Nave into the actual Coronation Theatre. The medieval privilege to claim attendance at a Coronation continues to this day and are bestowed an honorary title of "Baron of the Cinque Ports".
In the distant past, the Barons of the Cinque Ports had the right to hold a canopy above a new monarch at their coronation, though this has not been done since the coronation of King George IV. On this occasion, the coronation of His Majesty King Charles III and the Queen Consort at Westminster Abbey, the Barons of the Cinque Ports do not have a ceremonial role to play, but nevertheless are fulfilling the historic convention by attending.
Mayor of Tenterden, Cllr John Crawford will be participating along with the 13 other barons, and said: "It is a great honour and privilege to represent our beautiful town steeped in rich maritime history. The invitation to the Cinque Port Mayors demonstrates the importance King Charles III still places in our proud heritage. We as a community, are truly blessed with a remarkable legacy that puts our town on the map". The Lord Warden of the Cinque Ports remains the "Keeper of the Coast" and notable holders of the post have included the Duke of Wellington, Sir Winston Churchill and Queen Elizabeth The Queen Mother.
The confederation of Cinque Ports is chaired by its speaker, one of the Mayors of the Cinque Ports; which is rotated between the towns each year. The current speaker Cllr Jim Martin, Mayor of Hythe, said: "The Cinque Ports date back 1,000 years, and our history is enshrined in the history of this country. The confederation is a unique association of maritime towns in Kent and East Sussex. In the centuries before the Tudor kings of England first developed a navy, the 'men and ships' of the Cinque Ports provided a fleet to meet the military and transport needs of their royal masters. These small ports – many no longer operational, but still fiercely proud of their traditions, have been called the cradle of the Royal Navy."
In 1041, Edward the Confessor had set out his requirement to the south coast Portsmen, which was to use 20 of their ships, each with a crew of 21, for 15 days of service annually. When William the Conqueror eventually got a loyal reception from the Portsmen, his Charter (written to them in old French), coined the term "Cinque Ports"; his requirement was 57 ships for 15 days annually.
Back in 1200 AD, Tenterden had a coastline with the sea, as did many other towns.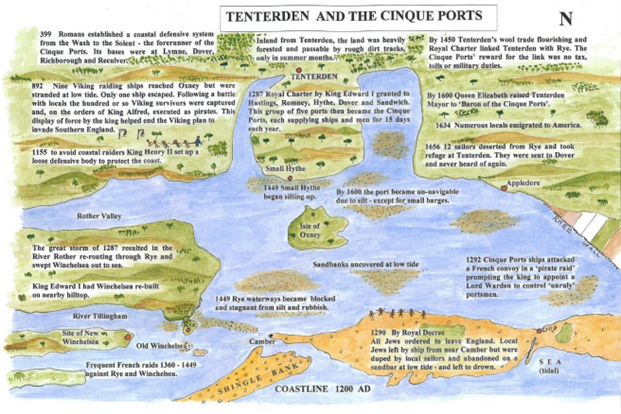 (Courtesy of Adrian Greaves from his book Tenterden Map to the Sea)
Smallhythe a hamlet of Tenterden was surrounded by plentiful supply of timber and iron creating a thriving shipbuilding port. 600 years ago, King Henry VI presented the prosperous town of Tenterden with a fabulous and exclusive invitation. A Royal Charter from the King permitted Tenterden to join a unique military alliance known as "The Cinque Ports". During the period between 1340 until the late 1600's a significant number of Ships were built.
In Queen Elizabeth I reign, she acknowledged the importance of Tenterden by issuing a new charter of Corporation. With this, the Bailiff was transformed to a Mayor and "Baron of the Cinque Ports". The first being John Hales.
Today, the quiet charm of many of the Cinque Port towns belies their important and sometimes violent role in the development of the nation's seafaring and naval traditions. Some of the ports such as Tenterden, have been stranded well inland by the retreating sea. It is sometimes hard to believe that all were once amongst the most significant ports in England.
~ ~ ~ ~ ~ ~~ ~ ~~ ~ ~~ ~ ~~ ~ ~~ ~ ~~ ~ ~~ ~ ~~ ~ ~~ ~ ~~ ~ ~~ ~ ~~ ~ ~~ ~ ~~ ~ ~~ ~ ~~ ~ ~~ ~ ~~ ~ ~~ ~ ~~
Charity Donation to The Old School House Larder
To complete his Mayoral fundraising year, the Mayor of Tenterden raised much needed funds for a second charity: The Old School House Larder, which is located in EC30 on Recreation Ground Road, and presented the cheque to Emma Isworth for the amount of £1,578.80. For more information on this wonderful charity that supports so many people in Tenterden and surrounding villages, and how to donate, please visit: https://www.ec30.co.uk/whatweprovide/foodbank/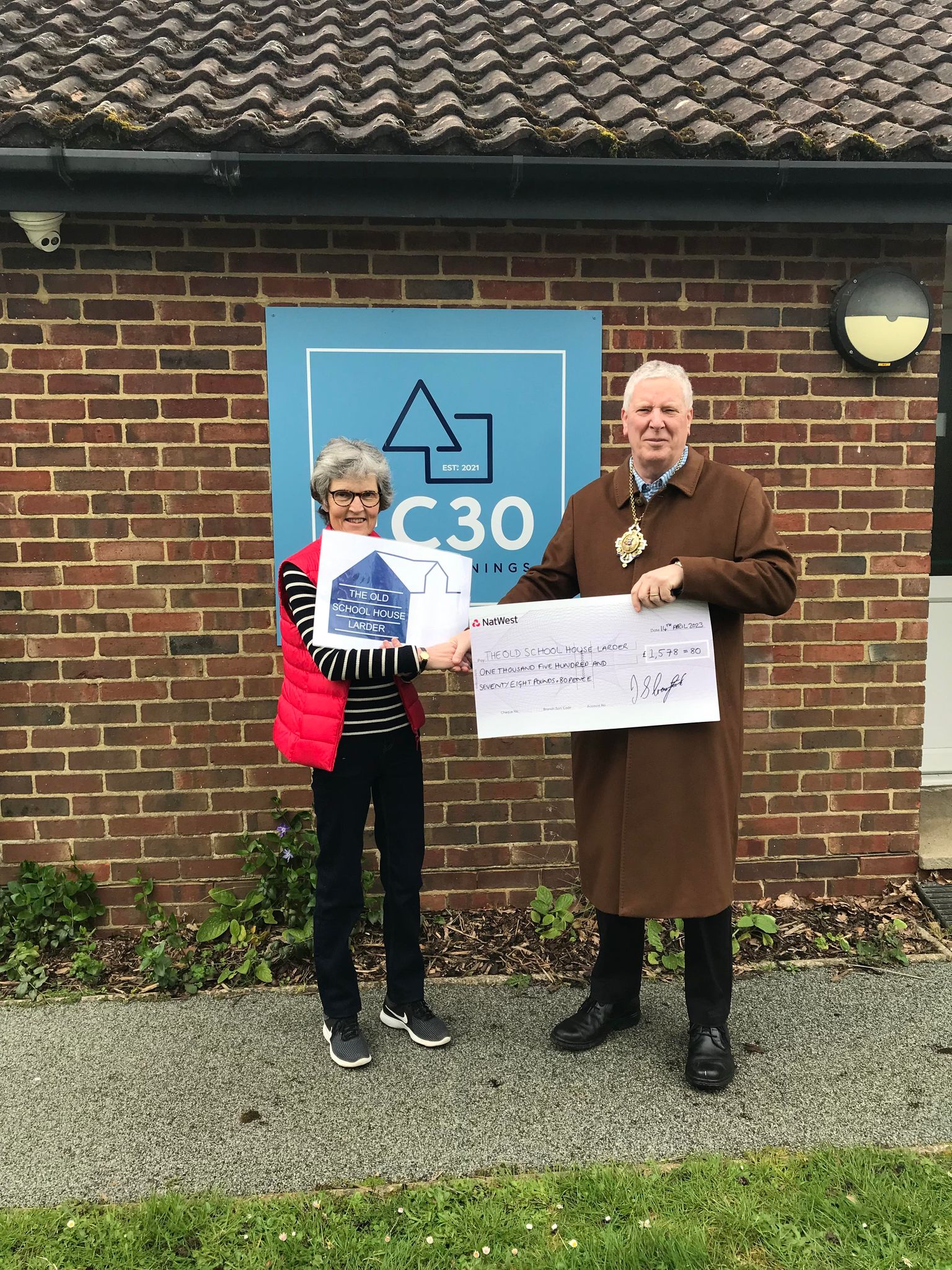 ~ ~ ~ ~ ~ ~~ ~ ~~ ~ ~~ ~ ~~ ~ ~~ ~ ~~ ~ ~~ ~ ~~ ~ ~~ ~ ~~ ~ ~~ ~ ~~ ~ ~~ ~ ~~ ~ ~~ ~ ~~ ~ ~~ ~ ~~ ~ ~~ ~ ~~
Plastic Free Tenterden Spring Fun Day Sunday, 23rd April 2023
On Sunday, 23rd April, Plastic Free Tenterden held its first awareness raising and public information day, supported by Kent & East Sussex Railway who hosted the event at the station.
The aim of the event was to increase knowledge about damage to the land and wildlife caused by the breakdown of single-use plastics in the environment. Plastic Free Tenterden (PFT) provides information and advice about changes people can make to reduce single-use plastic. Lots of people making constructive changes is a way of helping our environment.
Overall, we aim to educate ourselves and others to make choices in daily life that reflect our goals of using fewer resources, designing differently to meet our needs, re-using or re-purposing, then repairing and finally recycling to create a more sustainable pattern of life.
The event was Opened with style and panache by Robin Coombes, General Manager of K&ESR, John Crawford, Mayor of Tenterden and Debbie Greaves, MBE. Robin welcomed everyone, speaking with enthusiasm about cooperation between the railway, PFT and Tenterden Wildlife. In turn, John was pleased to report certified progress that TTC is improving its own practices to support the aims of PFT. Debbie then illustrated some of her own activities born of a long-standing concern about the quality of our shared environment. She gently encouraged others to choose and act with the environment in mind. We were delighted to have our pro-active message endorsed by all our speakers and thank them for their support.
As you can tell, it was a very worthwhile event. It was also fun! We were fortunate indeed to have several entertainers and creative artists who donated their time and skill to keep everyone in good spirits as we shared our ideas on increasing sustainable living for the benefit of all in our community. We thank them most sincerely, as we thank local businesses who donated funding or prizes and items to our successful fund-raising raffle.
We were delighted to have contributions from singers, musicians and a storyteller to entertain our visitors. Thank you everyone for sharing your creative passions and giving us all pleasure. It may have been rainy and cool outside, but in the marquee the atmosphere was warm, lively and fun. Face painting and dragon making engaged many of our younger visitors - all looked very pleased with their results.
Part of the event was a recycling quiz by Tenterden U3a Sustainability Group which stimulated thought and helped people acquire new information. Tenterden Wildlife shared information about their excellent projects and Demelza brought along unwrapped pre-loved toys so they could bring more joy in an affordable way, supporting local families as well as their own work. Each of these groups had good engagement from our visitors.
Despite the poor weather, almost two hundred people had bought platform tickets, most of whom had come to our event. After what can only be considered a successful event, Jayne Colvin, the organiser for the day's event expressed her sincere thanks to everyone who contributed including those who worked on publicity design & promotion; to the K&ESR organisation, their individuals in planning & publicity and the volunteers on the day.
Lastly, yet most importantly, we'd like to say a big 'thank you' to all our visitors for supporting our event by coming to see us and talking to us. We enjoyed meeting you.
For further information visit plasticfree.org.uk or contact philauden@btconnect.com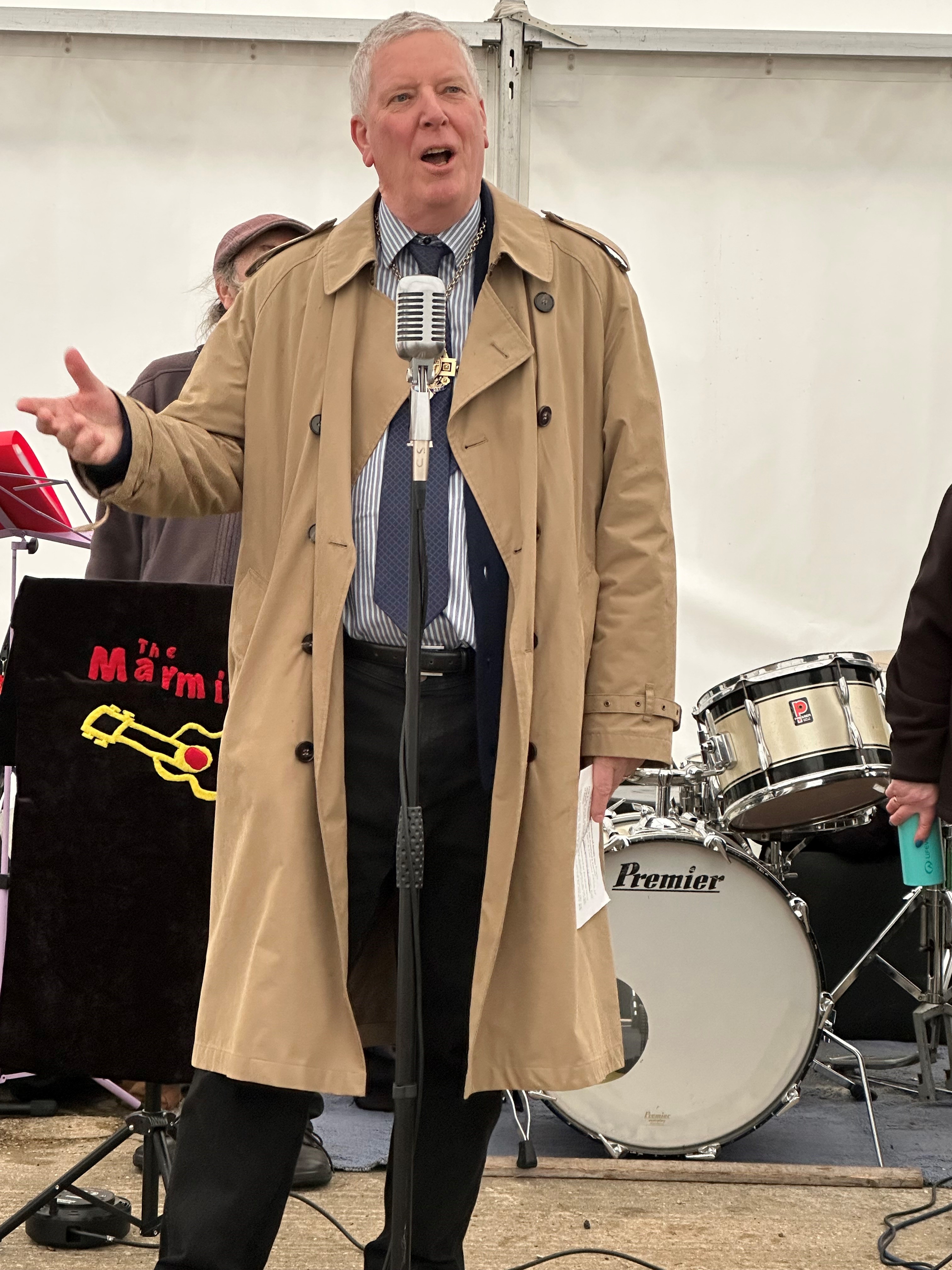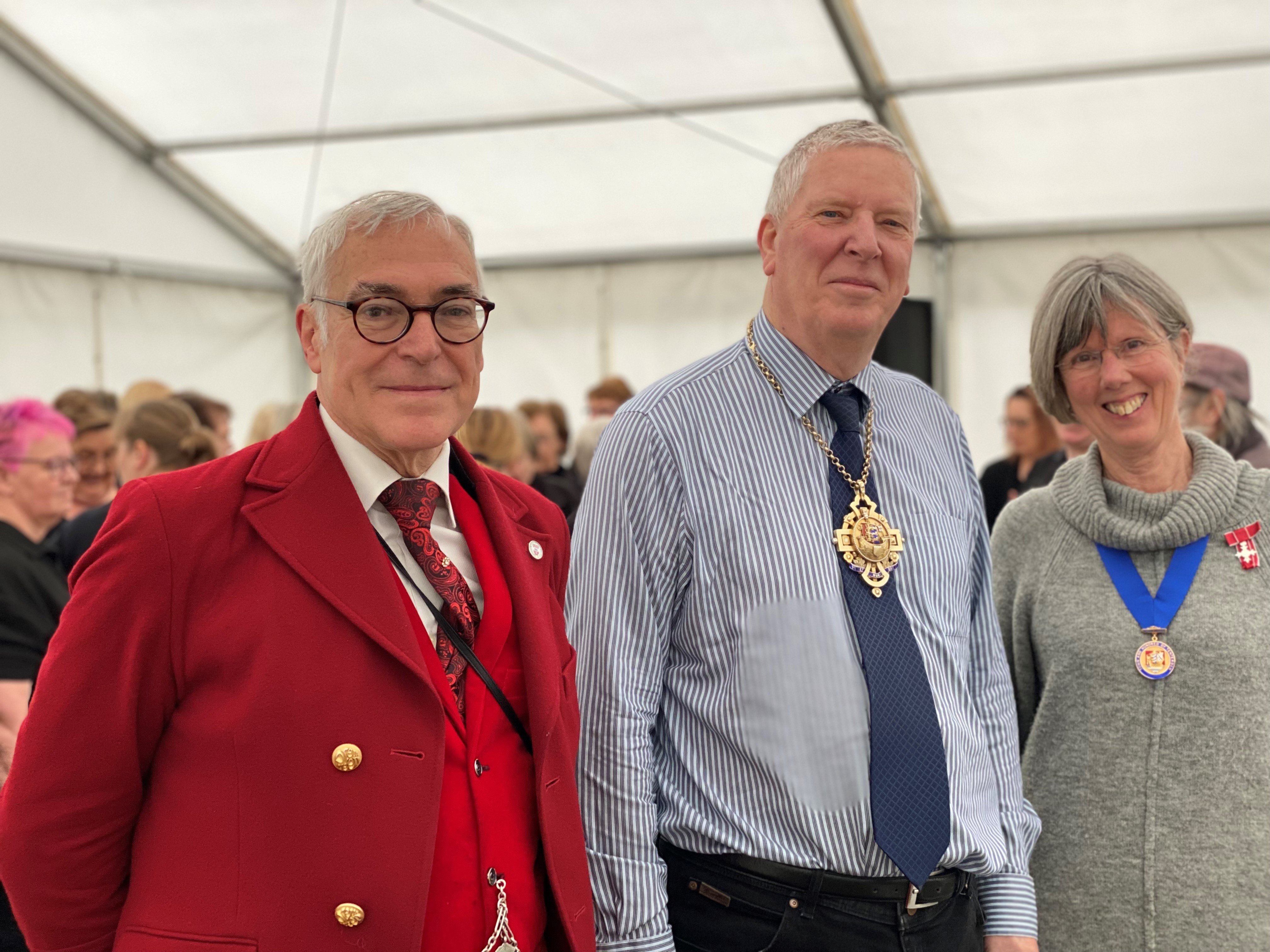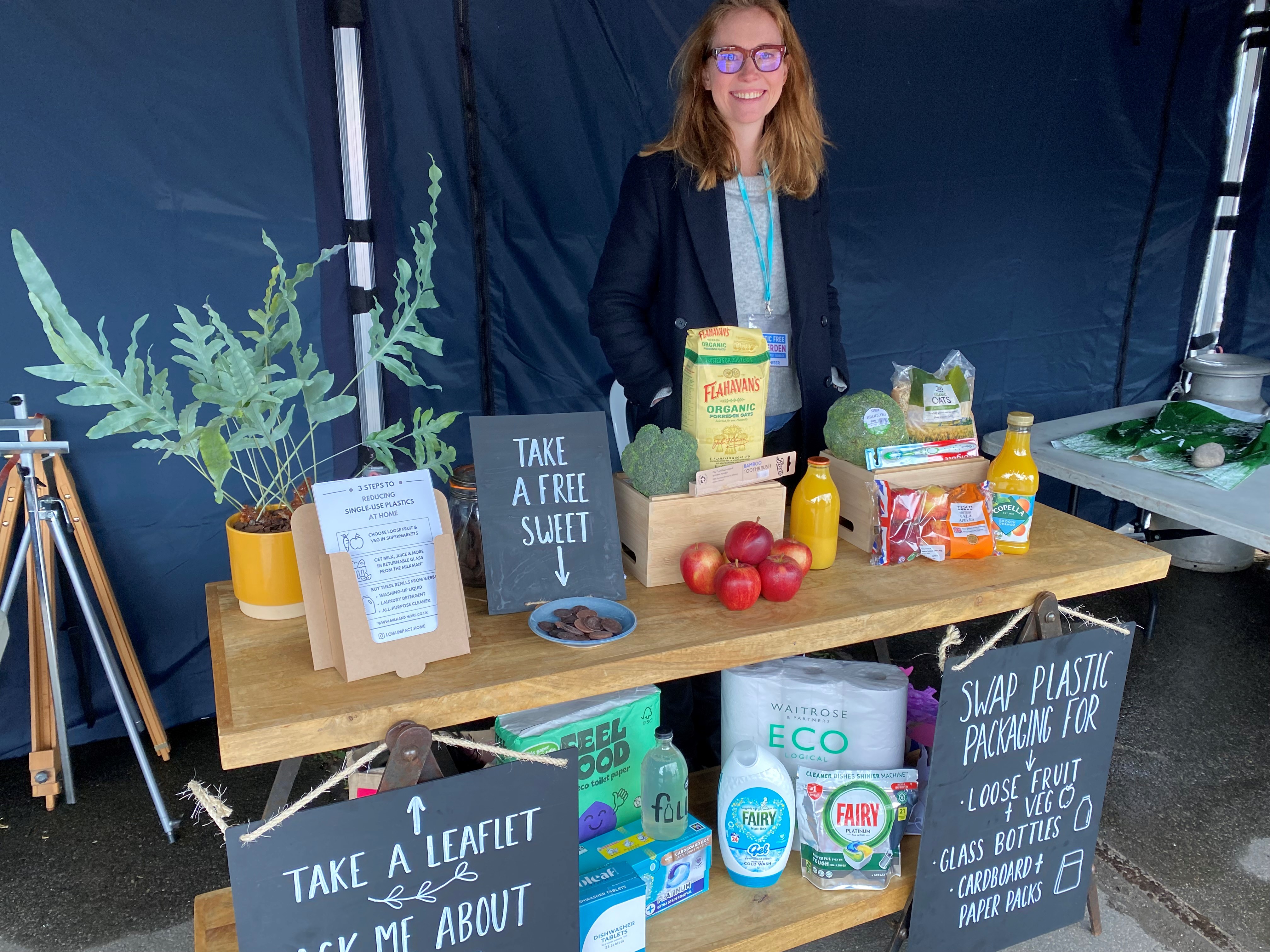 ~ ~ ~ ~ ~ ~~ ~ ~~ ~ ~~ ~ ~~ ~ ~~ ~ ~~ ~ ~~ ~ ~~ ~ ~~ ~ ~~ ~ ~~ ~ ~~ ~ ~~ ~ ~~ ~ ~~ ~ ~~ ~ ~~ ~ ~~ ~ ~~ ~ ~~
Charity Quiz in aid of The Old School House Larder
On Friday, 24th February, we welcomed to the Town Hall just over 100 keen quizzers for what turned out to be a very enjoyable and successful evening. Cllr. Pam Smith was an outstanding Quizmaster and kept the Teams on their toes all evening. A raffle and small auction was held during the evening and a fish and chip supper was provided by Marinos Fish Bar, which was very much enjoyed by all those who attended.
The funds raised from the Quiz night totalled just over £1,300 and these will be donated to The Old School House Larder (TOSHL), which is a Tenterden based registered charity, and based in EC30. TOSHL was originally set up in response to the Covid-19 pandemic, during which schools closed down and the Family Foodbank charity was struggling to keep up with demand for food boxes. TOSHL supports vulnerable families with children who are finding it difficult to provide meals every day.
To find out more about The Old School House Larder and how you can help, please visit: https://www.ec30.co.uk/whatweprovide/foodbank/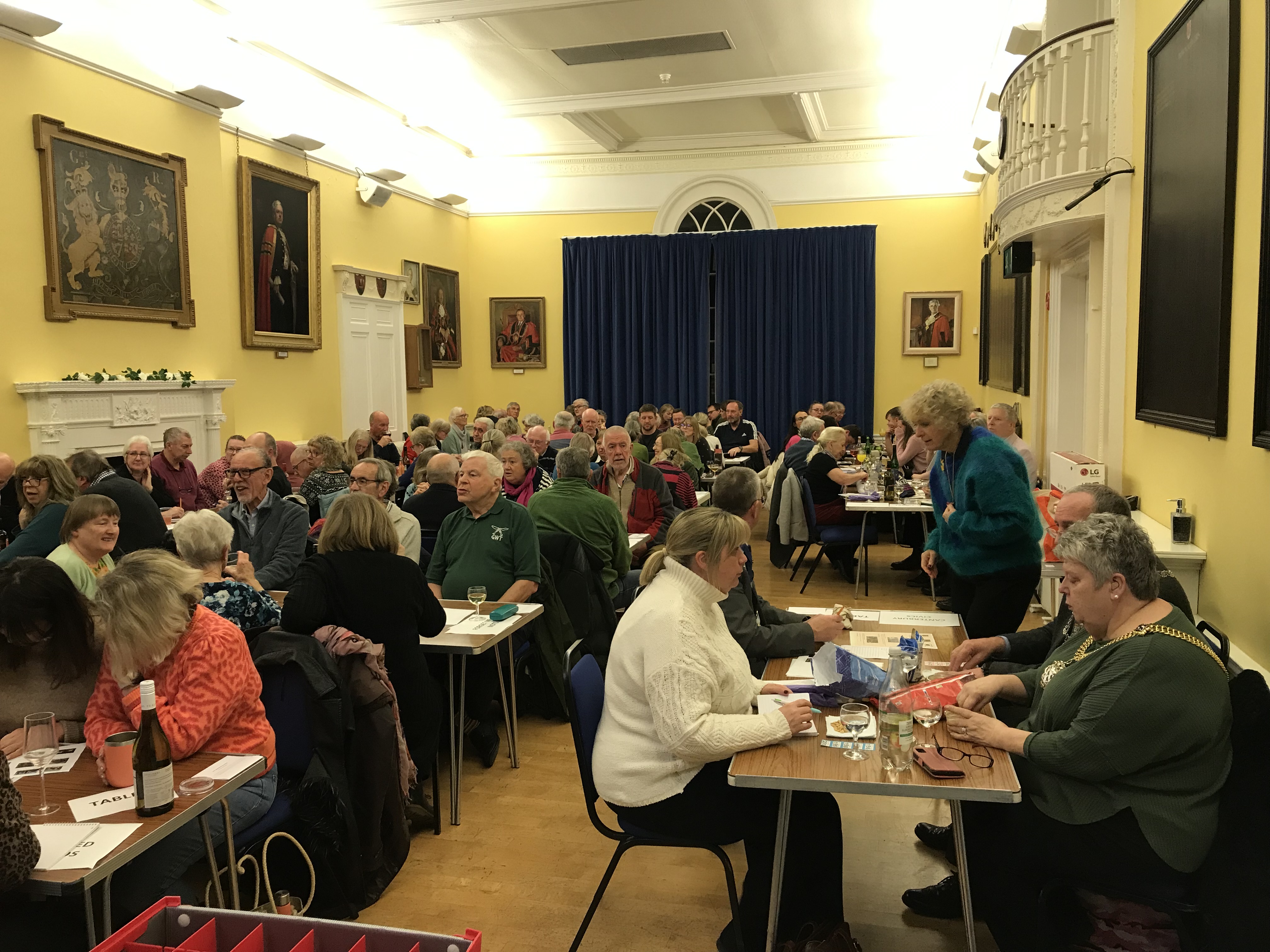 Tenterden District Badge of Office Ceremony - Civic Centre, Ashford - Monday 31st October 2022
On the 31st October 2022, Ashford's Executive Leader (Cllr Gerry Clarkson) and Ashford's Mayor (Cllr Jenny Webb) held a ceremony with Tenterden councillor representatives to hand back on a long term loan Tenterden's Chairman's historic Badge of Office, as this is an important part of the town's history.
Tenterden's Mayor Cllr John Crawford gave an acceptance speech and the full text can be seen below.
Tenterden Council's aim is to put on display once we have evaluated a cost effective method of securing this priceless regalia.
Mayor of Tenterden Cllr Crawford's Acceptance Speech:
"Good afternoon. This ceremony is indeed a unique occasion for Tenterden Town Council.
First, I should like to thank "The Executive Leader of Ashford Borough Council", Cllr Gerry Clarkson and "Worshipfulness the Mayor of Ashford" Cllr Jenny Webb for orchestrating the presentation of Tenterden Rural District Chairman's Badge of Office, to Tenterden Town Council.
The Chairman's Badge of Office historic insignia is a marvellous piece of workmanship which will be treasured by Tenterden Town Council and its community.
As everybody knowns, Tenterden has an incredibly rich history and I should like to recap on some of the major milestones.
Tenterden came into being in the 14th century, when it was established with its strong wool and cloth industry.
In 1449, Tenterden was formally incorporated by King Henry VI into the Cinque Ports Confederation as a Limb of Rye.
The confederation still plays an important part of our heritage and continues to evolve so it remains relevant to the needs of its 14 members.
In the same year of 1449, Tenterden was granted "A Charter of Incorporation" and the town elected its first Mayor, Thomas Petlesden.
The town had many privileges such as administering justice and it erected a set of gallows for the execution of criminals. This gruesome but popular event took place at Gallows Green with a main viewing platform for the general public.
Records show this regular event was well attended, with the last execution in 1785.
The Local Government Act of 1894 set up Rural District Councils in England and Tenterden was transitioned into a District. Tenterden District became responsible for roadworks, general maintenance and housing. I am sure many of us wish we still had responsibility for roadworks to repair the many potholes and substandard road surfaces.
Unfortunately we do not.
In addition, the Mayor's extra duty was as an ex officio "justice of the peace" until 1968 when the role was abolished.
At the end of Tenterden District era, it was responsible for nine parishes**, which Gerry has mentioned earlier.
On 1st April 1974, Prime Minister Ted Heath's Local Government Act of 1972 was implemented for England and Wales. The result was Tenterden District merging with the various Ashford districts to become the largest borough by area in Kent. Sadly that was the end of 525 years of Tenterden's local powers to help shape the town's destiny.
As a parish moving into the future, Tenterden's sustainability is partially reliant on Ashford. In the coming years, we need to build closer working relationships for the benefit of our collective communities.
Today 31st October 2022, we are making history. It is incredible after 48 years this magnificent piece of Regalia is coming home to reunite with the original Tenterden District Regalia of the Mayor's office.
We are extremely grateful to the Ashford Executive Leader, the Ashford Mayor, the Ashford Cabinet and many others who helped in the planning of this historic ceremony.
So on behalf of Tenterden Town Council, a very big thank you."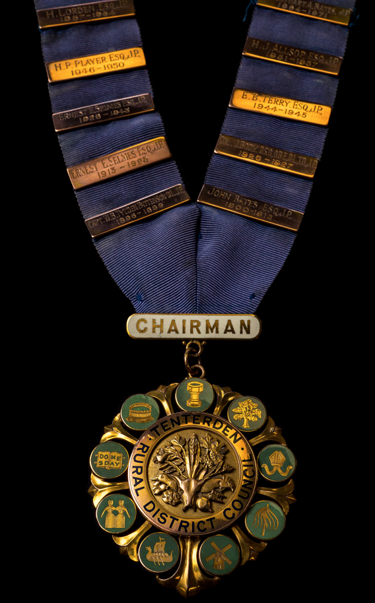 ** Badge is made in 9ct gold, hallmarked Birmingham 1959. The ribbon carries the 9ct. gold bars, all engraved with past Chairmen.
Parish symbols on the circumference of Chairman's Badge of Office are: Appledore (Viking Ship); Biddenden (Maids); High Halden (Doomsday Book) Kenardington (Protective Earthworks); Newenden (Saxon Fort); Rolvenden (Ranters Oak); Stone-In-Oxney (Bishops Mitre); Wittersham (May Pole); And Woodchurch (Windmill)
Charity Auction at Little Silver Country Hotel
On Saturday, 8th October the Mayoress and I welcomed 50 guests, including Celebrity Auctioneer Catherine Southon and Celebrity Gregg Wallace, to our Charity Auction to raise much needed funds for the Tenterden Memory Café. Many businesses in and around Tenterden very kindly donated 'auction lots' for the event and we are extremely pleased to say that we raised a total of £4,500! We would like to thank all those that attended and so generously dug deep in their pockets, to Catherine for being such a super, fun Auctioneer, and a special thank you to those businesses who donation such wonderful items.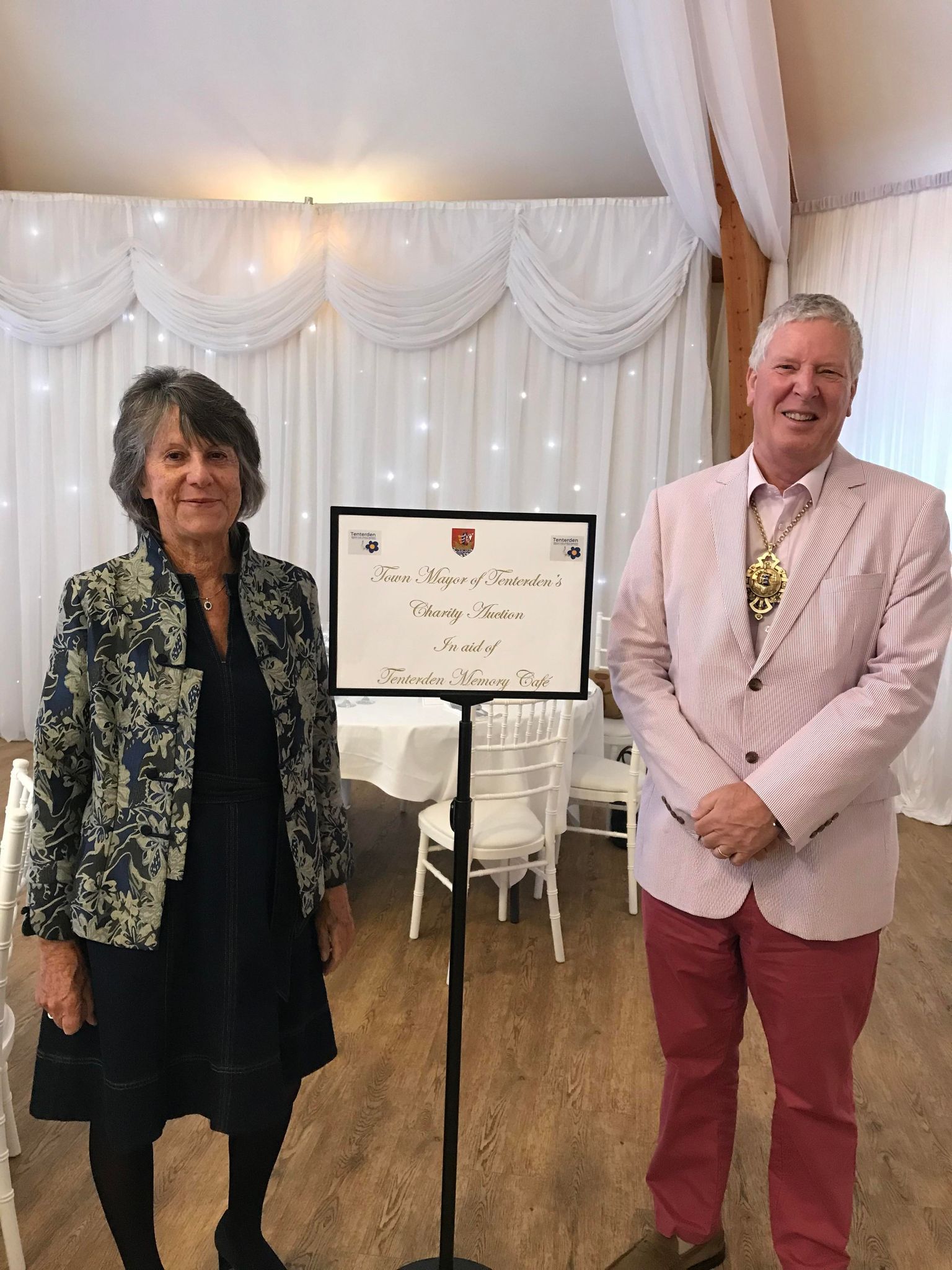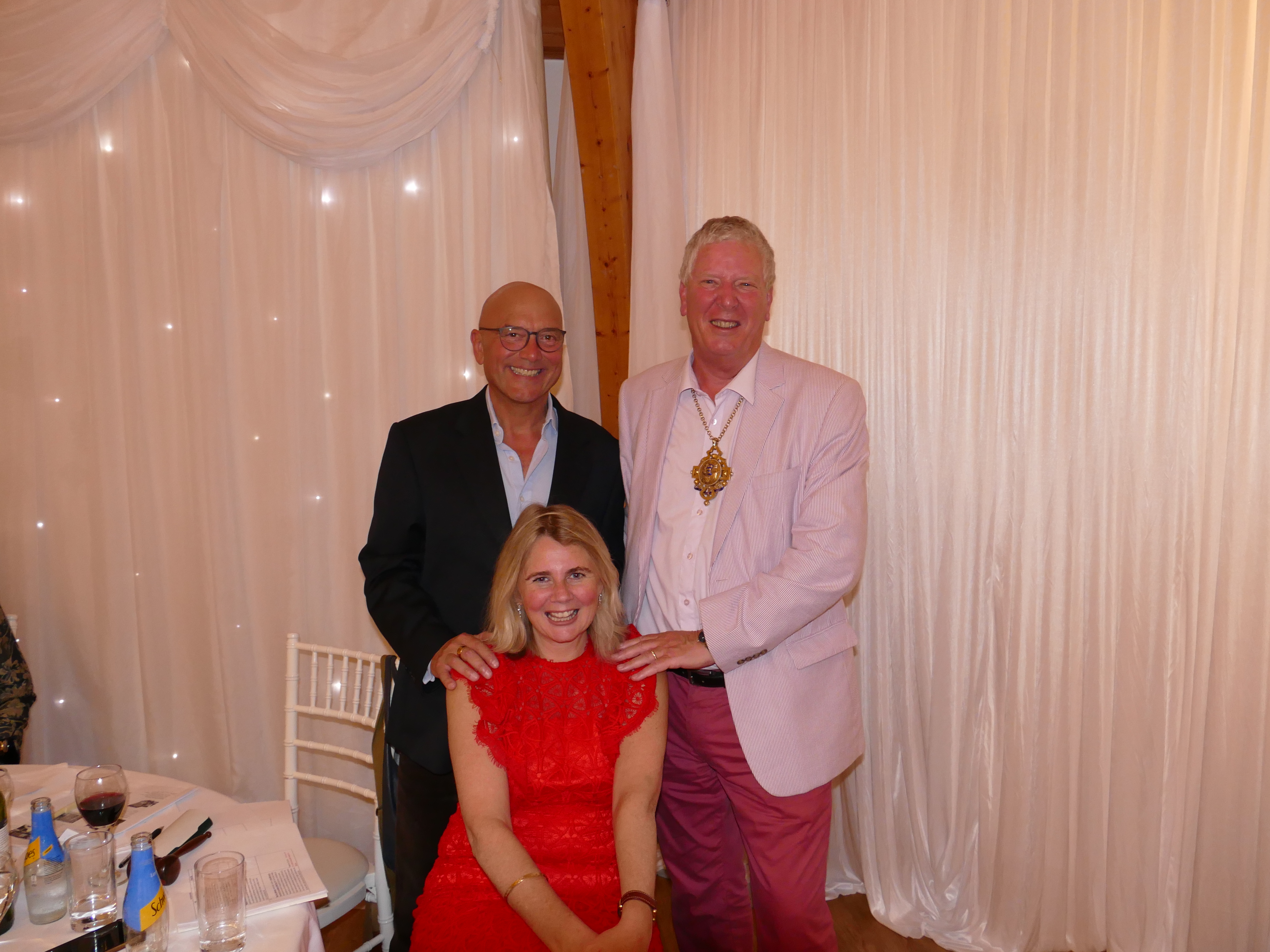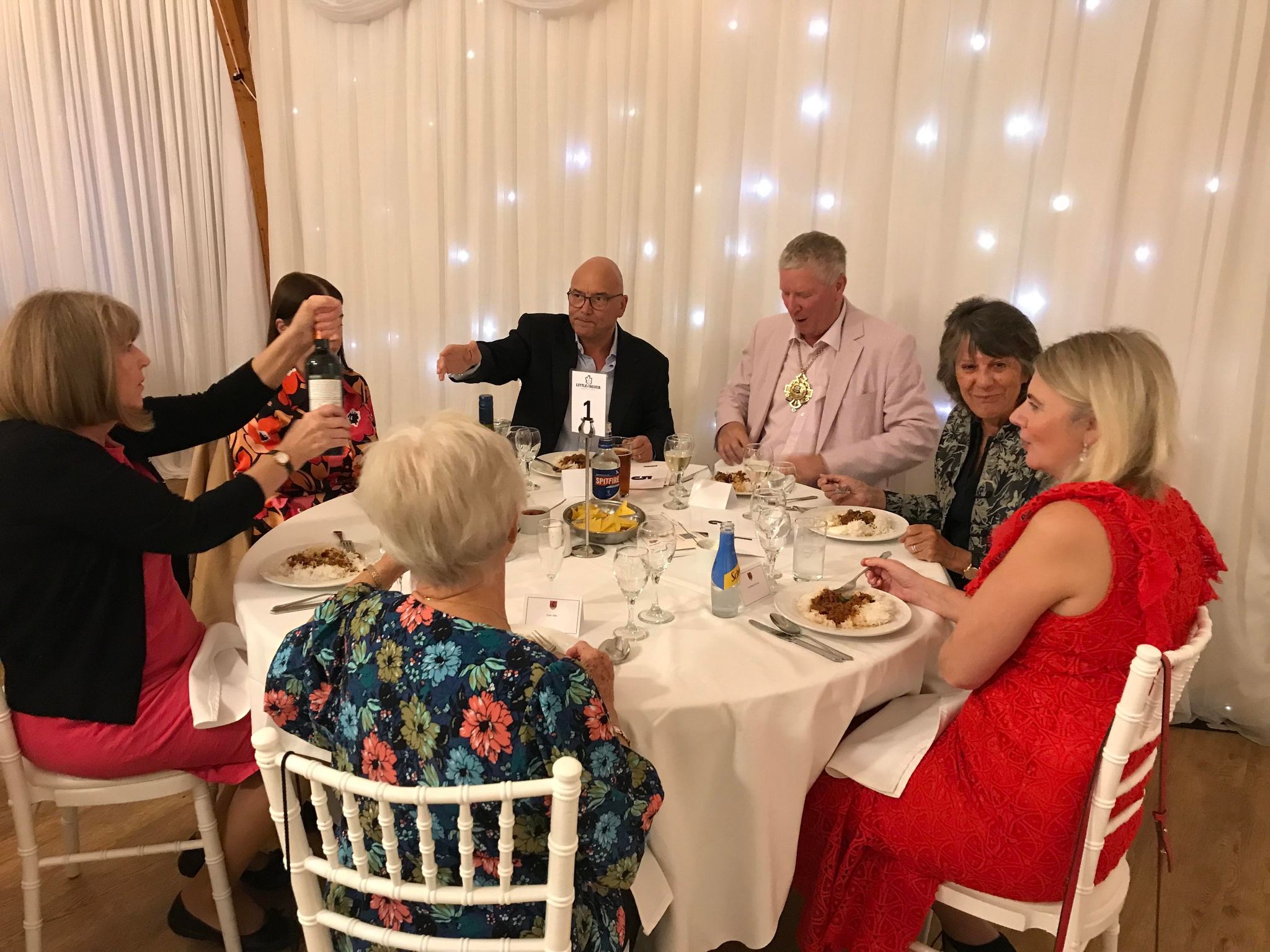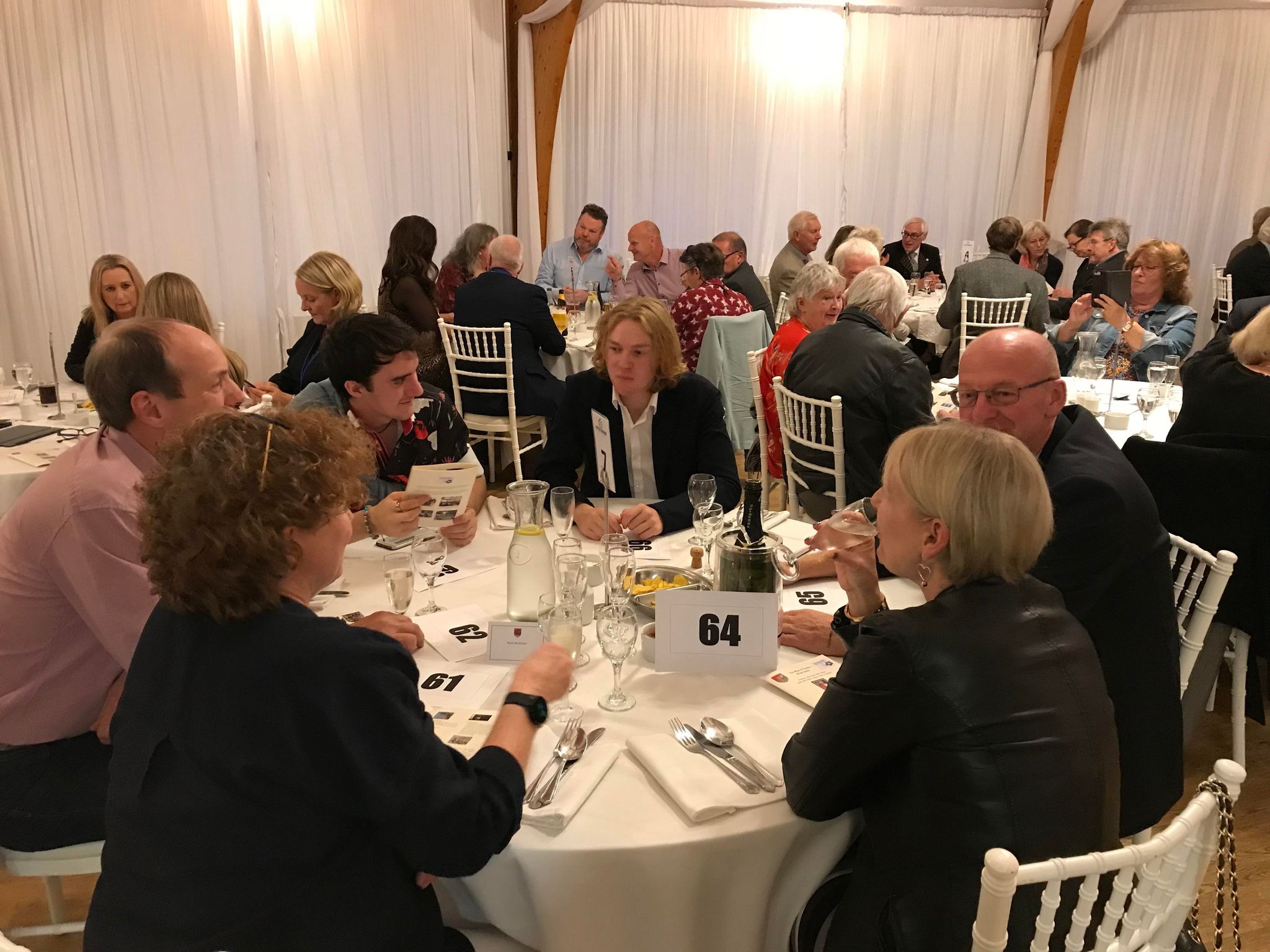 ~ ~ ~ ~ ~ ~~ ~ ~~ ~ ~~ ~ ~~ ~ ~~ ~ ~~ ~ ~~ ~ ~~ ~ ~~ ~ ~~ ~ ~~ ~ ~~ ~ ~~ ~ ~~ ~ ~~ ~ ~~ ~ ~~ ~ ~~ ~ ~~ ~ ~~
Bench Donated to mark the Queen's Platinum Jubilee
Earlier this year the town celebrated the Queen's Platinum Jubilee. I felt there should be a permanent fixture to remember Her Majesty the Queen on her loyal and selfless service to the country and recognise this remarkable milestone. I as Mayor of Tenterden, have donated a bench which has been installed on Tenterden Recreation Ground to honour the Queen's jubilee. I hope it provides not only a memorial to Her Majesty on her Service, but also as a place for residents and visitors to sit, chat, and enjoy the view of our lovely Recreation Ground.
~ ~ ~ ~ ~ ~~ ~ ~~ ~ ~~ ~ ~~ ~ ~~ ~ ~~ ~ ~~ ~ ~~ ~ ~~ ~ ~~ ~ ~~ ~ ~~ ~ ~~ ~ ~~ ~ ~~ ~ ~~ ~ ~~ ~ ~~ ~ ~~ ~ ~~
Tenterden - Proclamation Ceremony for His Majesty King Charles III
The Proclamation of the accession of the new monarch, His Majesty King Charles III took place at Tenterden Town Hall on Monday 12th September.
The ceremony took place on the balcony of the Town Hall and was attended by Tenterden town councillors as well as councillor representatives from both Ashford Borough Council and Kent County Council. An estimated 100 members of the public were present to witness the proceedings. Prayers for our new monarch, were read by Canon Lindsay Hammond & Reverend Jeanette Kennett.
Before reading the Proclamation, the Mayor of Tenterden Cllr Crawford, said that:
"Tenterden Town Council would like to convey its sincerest condolences to his Majesty The King on the death of Her Majesty Queen Elizabeth II, our Head of State and Great Ambassador for the United Kingdom, whose place in history is surely secure as one of the greatest reigning monarchs."
"We share the sentiments of loss and sorrow felt all over the world at the passing of such an eminent patriot, whose life has been devoted to the service of her country as well as advocating peace and the importance of nations working together."
"We have all been greatly saddened by the death of Her Majesty Queen Elizabeth II, after the longest reign in our nation's history and a lifetime of selfless and devoted service to our country and to the Commonwealth."
"However, the Crown never dies and, even as we mourn our late Queen, a new King has acceded to the throne and I have been charged by the Lord Warden of the Cinque Ports, Admiral of the Fleet the Lord Boyce, with reading the following formal proclamation, issued by the Accession Council, which is expressed in the formal language traditionally made, over many centuries."
The ceremony ended with all present voicing three cheers for His Majesty the King and singing of the national anthem.
~ ~ ~ ~ ~ ~~ ~ ~~ ~ ~~ ~ ~~ ~ ~~ ~ ~~ ~ ~~ ~ ~~ ~ ~~ ~ ~~ ~ ~~ ~ ~~ ~ ~~ ~ ~~ ~ ~~ ~ ~~ ~ ~~ ~ ~~ ~ ~~ ~ ~~
I along with my wife had the pleasure of being invited as one of the Cinque Port Mayors to the Royal Engineers at Brompton Barracks, Chatham on 15th June 2022.
The Royal Engineer training establishment was founded in Chatham, Kent in 1812 by Major (later General Sir) Charles Pasley and renamed The School of Military Engineering in 1868 before being granted the "Royal" prefix in 1962.
We were greeted by Lt Col Guy Cheesman, Brigadier Boxall and officers posted at the school.
The Royal Engineers have been present in every conflict involving British Forces throughout the world since the late 11th century, including the more recent operations in Iraq and Afghanistan. They provide military engineering and other technical support to the British Armed Forces.
Each year, the school trains 10,000 personal in all manner of disciplines and skills to support the regular forces in defending our country. These cover a wide range of training including construction; engineering and watermanship. In recent years, the school has been expanded to encompass the Defence Animal Training Regiment, the Royal Military School of Music and the Defence Chemical, Biological, Radiological and Nuclear Centre.
During the evening, we watched the band perform the Beating Retreat. Its origin dates back to the 17th century, in the early days of chivalry when beating or sounding retreat signalled a halt to the day's combat, the return to camp and the mounting of the guard for the night. Today, the Sounding Retreat remains a fixture in the Army's ceremonial calendar and provides a display of spirited marches, uplifting music, and anthems of special significance to our Armed Forces and assembled guests.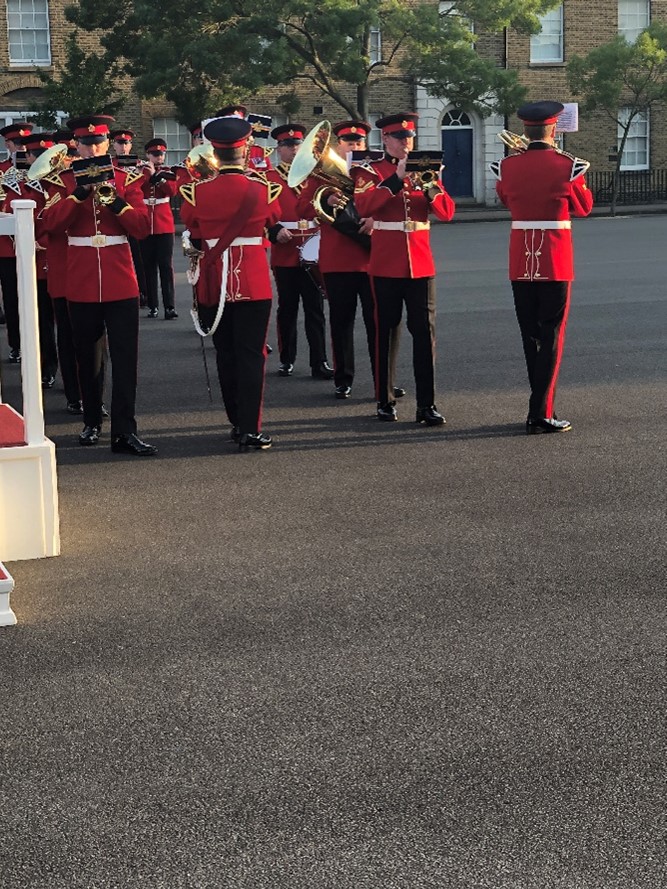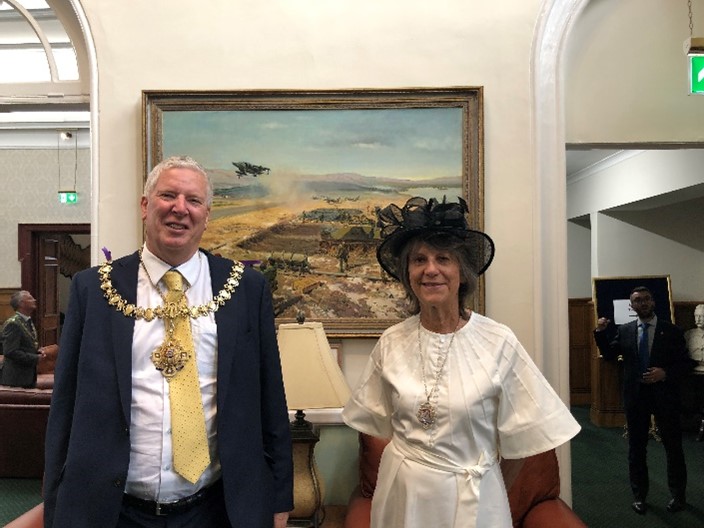 We had the opportunity to talk to Brigadier Boxall and many other senior offices who are very professional in their attitude, but also very down to earth making very interesting conversation.
~ ~ ~ ~ ~ ~~ ~ ~~ ~ ~~ ~ ~~ ~ ~~ ~ ~~ ~ ~~ ~ ~~ ~ ~~ ~ ~~ ~ ~~ ~ ~~ ~ ~~ ~ ~~ ~ ~~ ~ ~~ ~ ~~ ~ ~~ ~ ~~ ~ ~~
Tenterden Town Council was delighted to celebrate the Queen's Platinum Jubilee by lighting the Town's Beacon and holding the Big Jubilee Lunch on the Tenterden Recreation Ground.
On the evening of Thursday, 2nd June, Tenterden's community came out in huge numbers to honour the Queen's Platinum Jubilee and watch the lighting of the Beacon. It was an incredible turnout.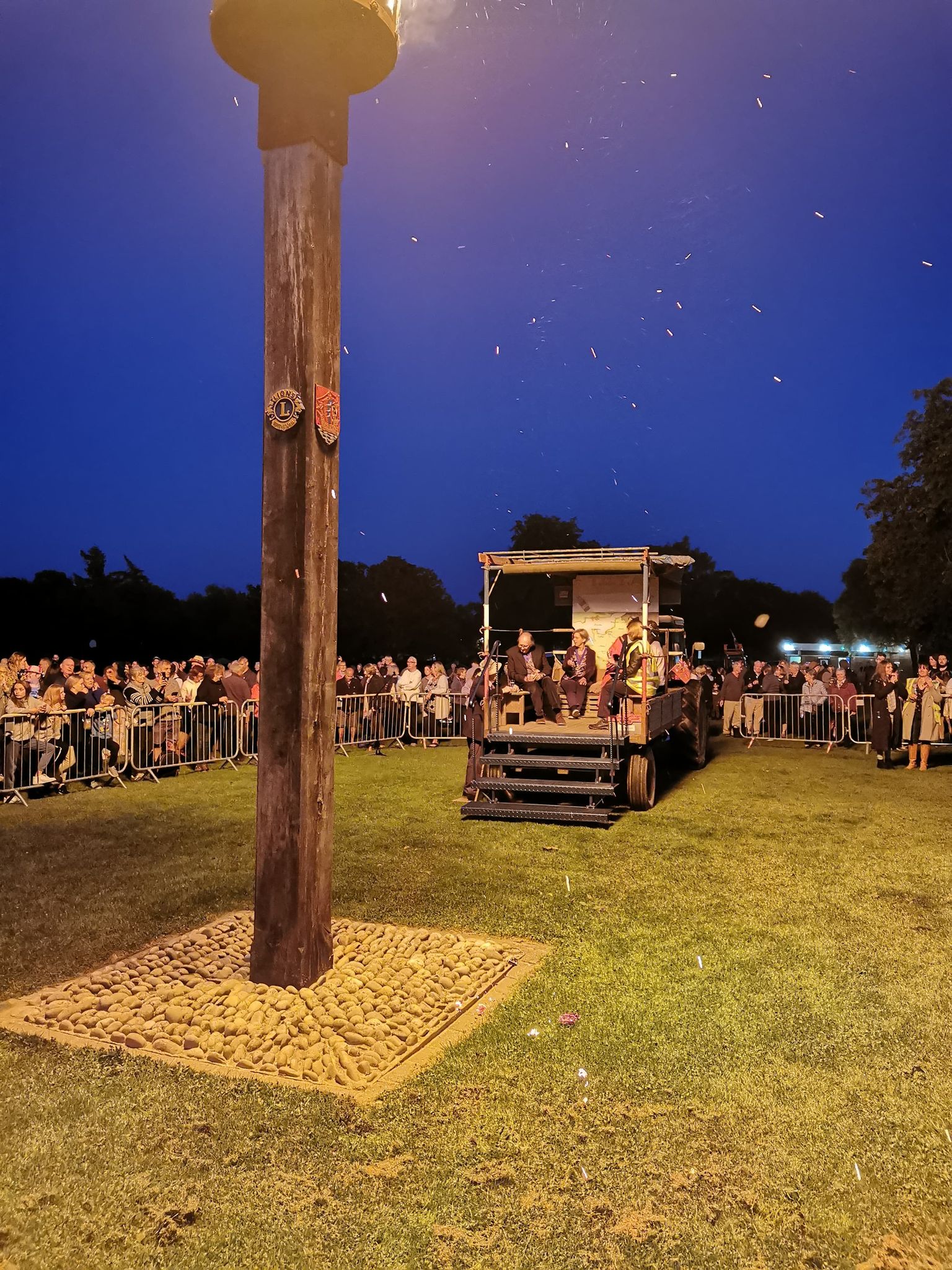 Our special thanks go Rhythm of Life Choir for their idyllic singing, which was brilliant.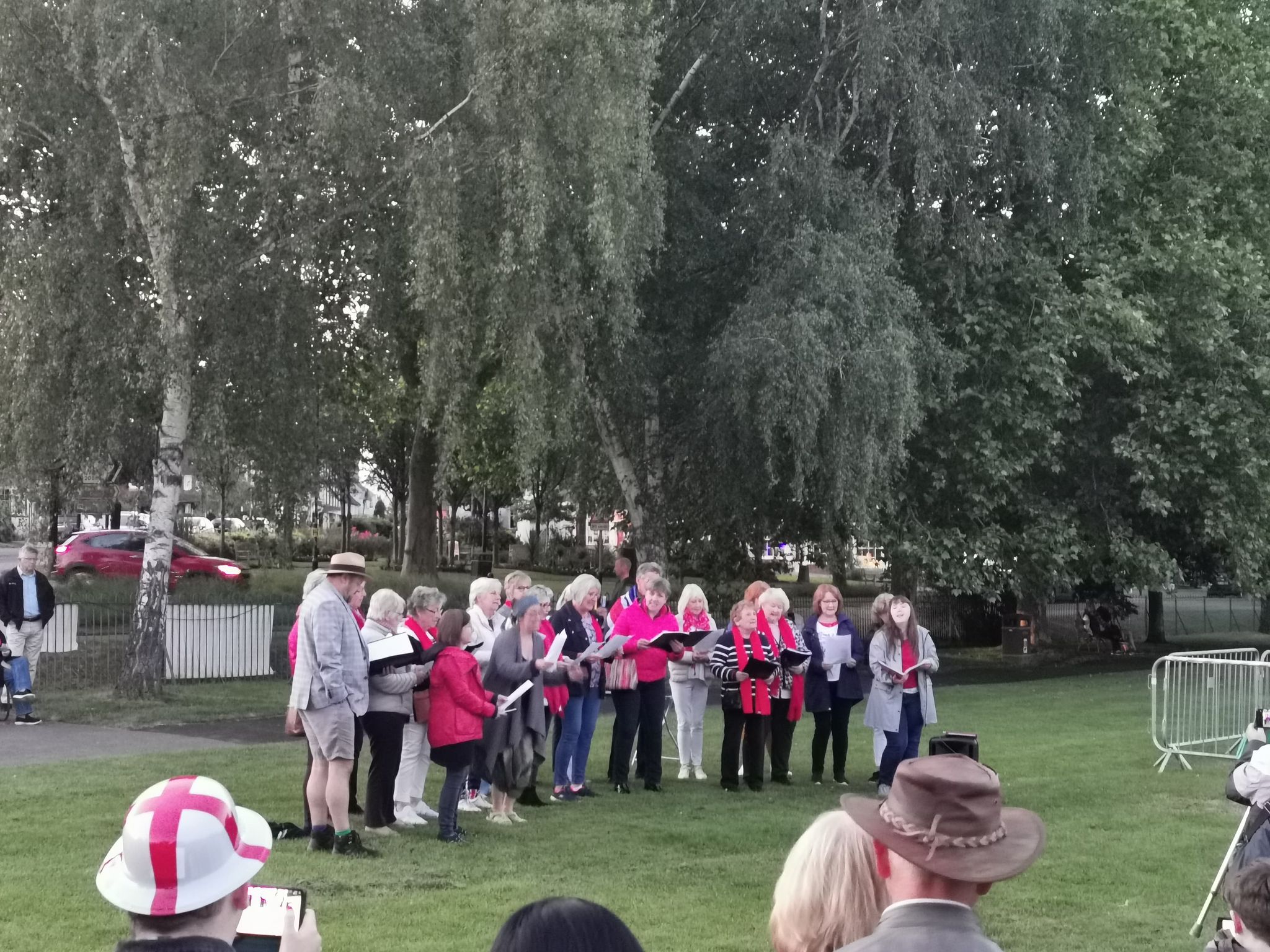 At the start of the ceremony, Reverend Jeanette Kennett said prayers, these were followed by the playing of the bugle.
The town's Freemen Dr Raymond Crawfurd, Henry Edwards and Freewoman Debbie Greaves jointly lit the Beacon. At one stage there was great consternation by all whether the Beacon would actually burst into flames!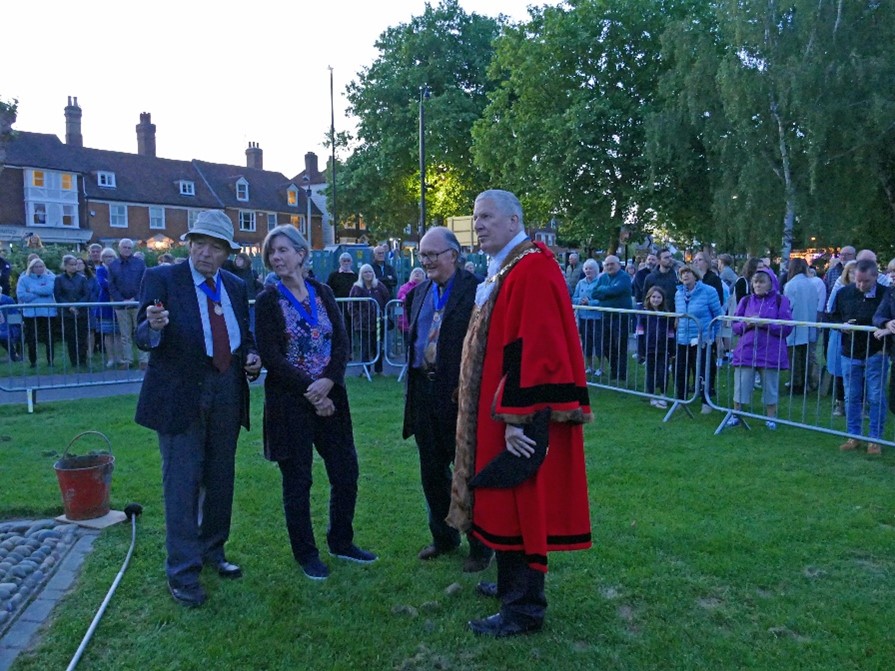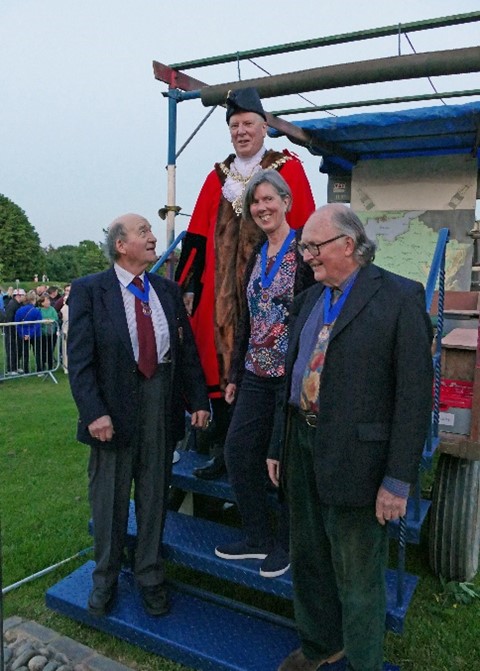 After five minutes everybody cheered when the huge sparks roared up to the sky.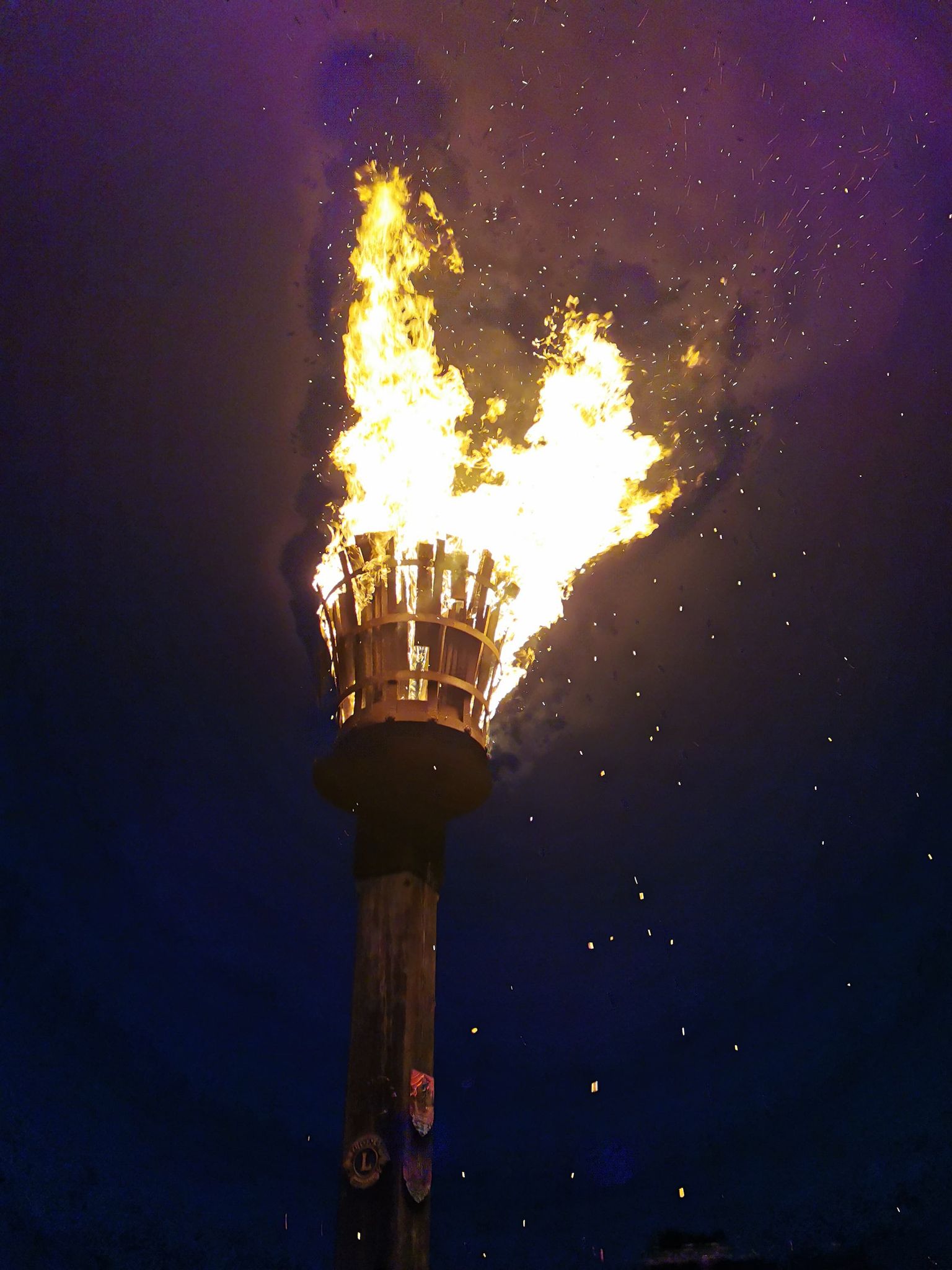 Cllr. John Crawford Mayor of Tenterden proposed the Toast to the Queen, this was followed by an impromptu rendition of "God Save the Queen" by the crowd.
The Town Council would like to thank Henry Edwards for providing the trailer on the night and Andy Bantock for running the PA.
A few days later, on Sunday 5th June, the Council held the "Big Jubilee Lunch". We were extremely lucky the rain held off and crowds started to arrive around mid-day.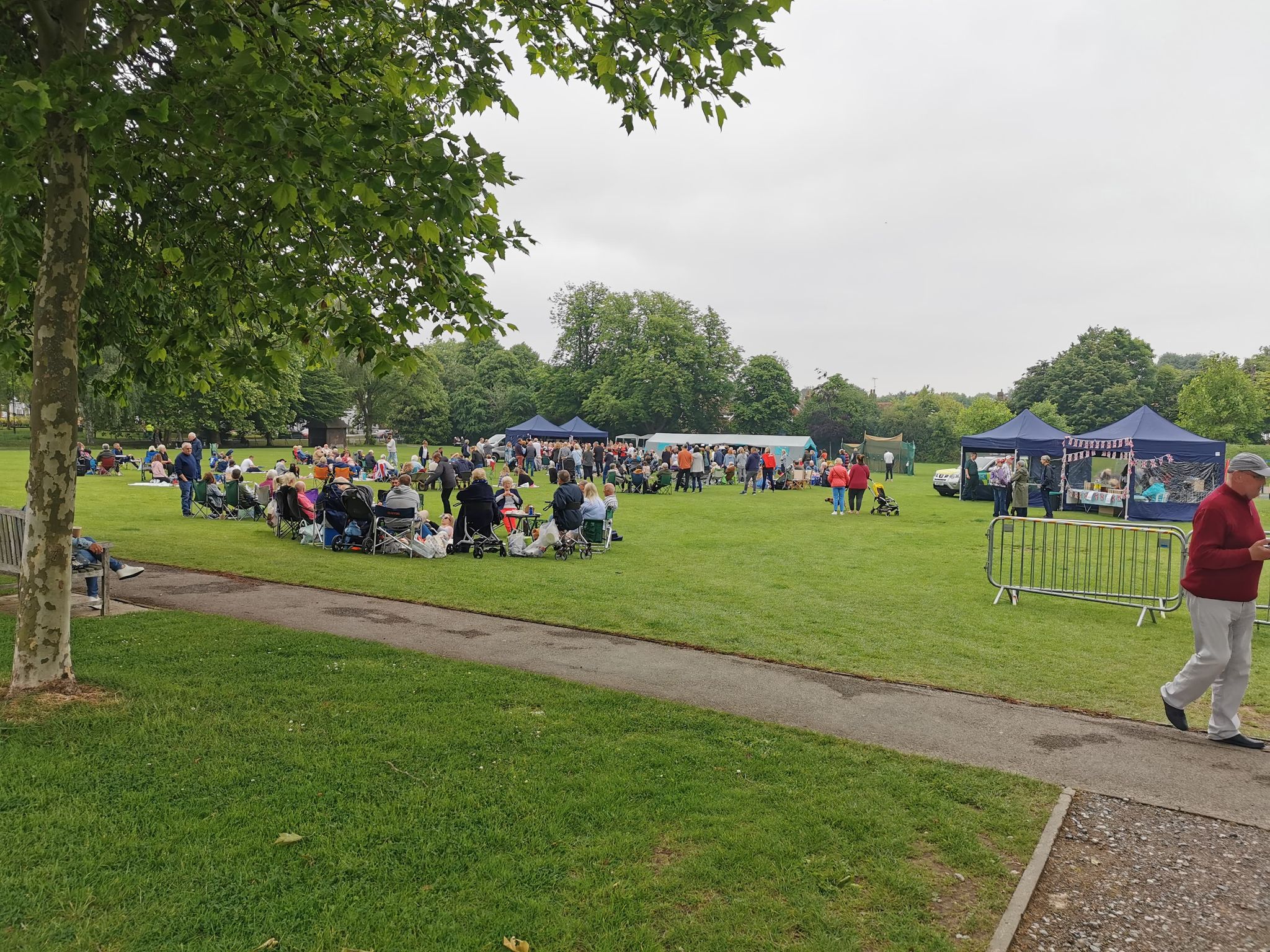 The Town Mayor, Cllr. Crawford opened the festival with special thanks to the organisers and in particular Claire Gilbert our Deputy Town Clerk. Without their dedication during the last four days, this event would not have happened.
We are also grateful to PWave Medical for being on standby - just in case!
The Town Council is indebted to the Rockits Community Choir for singing 1940s and 50s well known songs, which set the tone for a wonderful and joyous afternoon.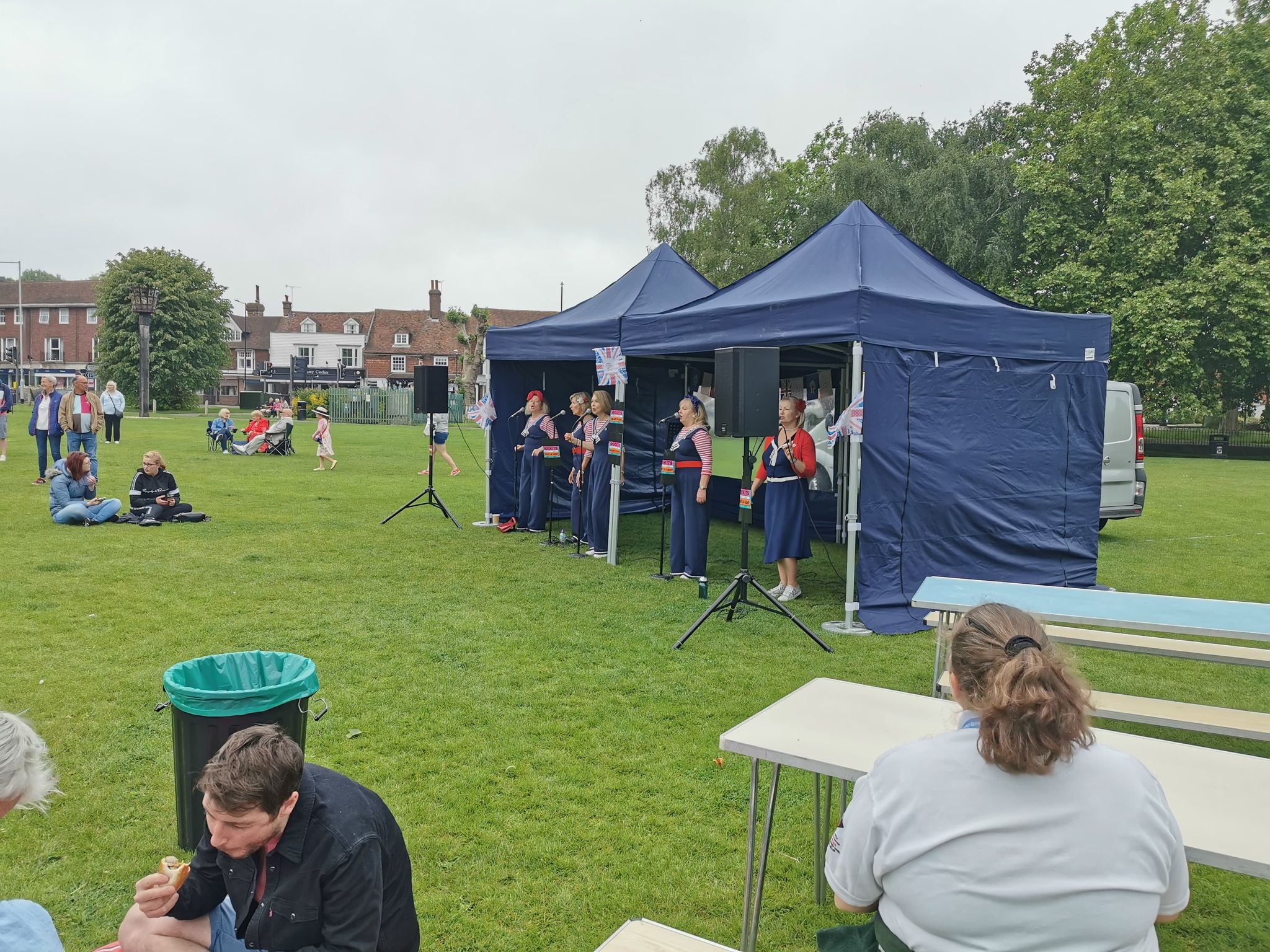 The Rockits also ran the tea marquee with amazing cakes and scones. A strict diet is now required to recover! The profits went to Macmillan Cancer Support UK, which is one of the largest British charities providing specialist health care.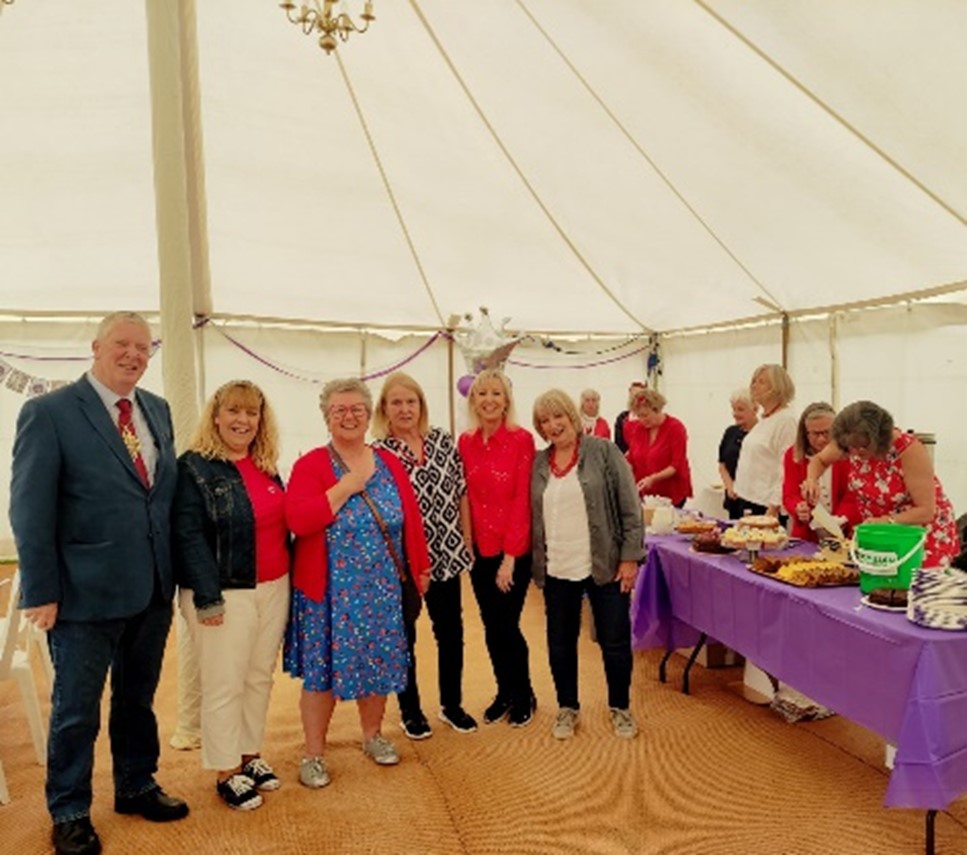 The Scouts were also out in force, providing "hot dogs" and Beef burgers.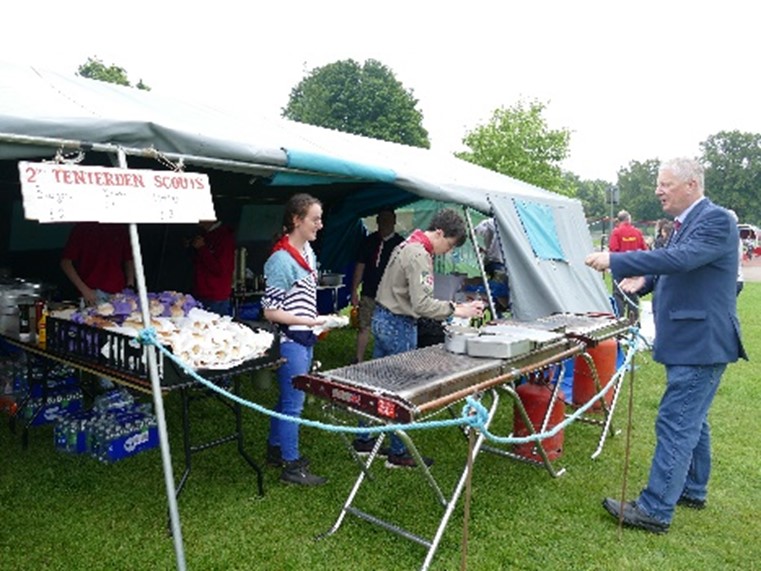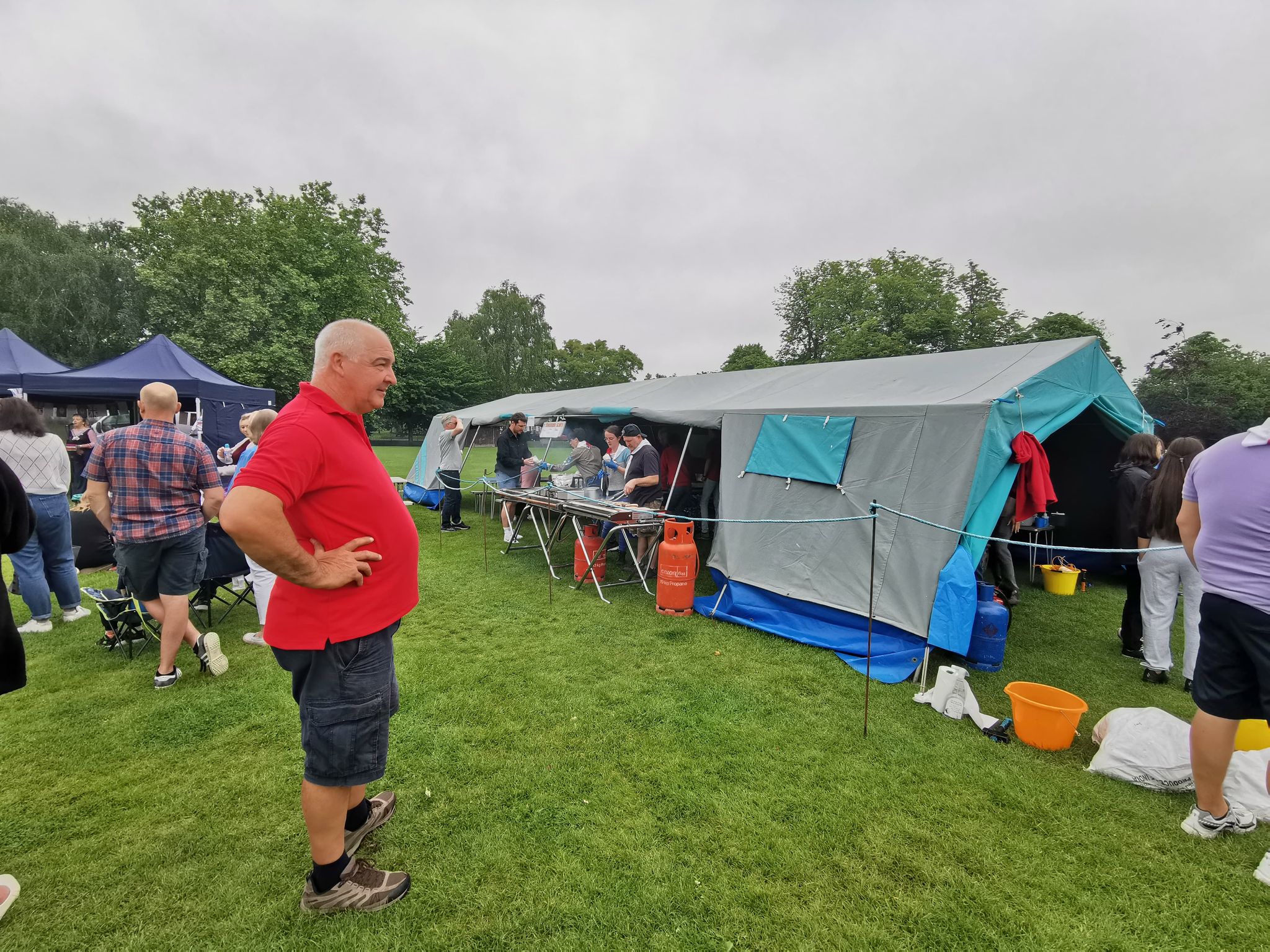 They also ran a coconut shy to test the throwing abilities of the community.
For those liking a little tipple, staff volunteers of the local Waitrose Store, aided by Tenterden Town Council, ran the Pimms tent.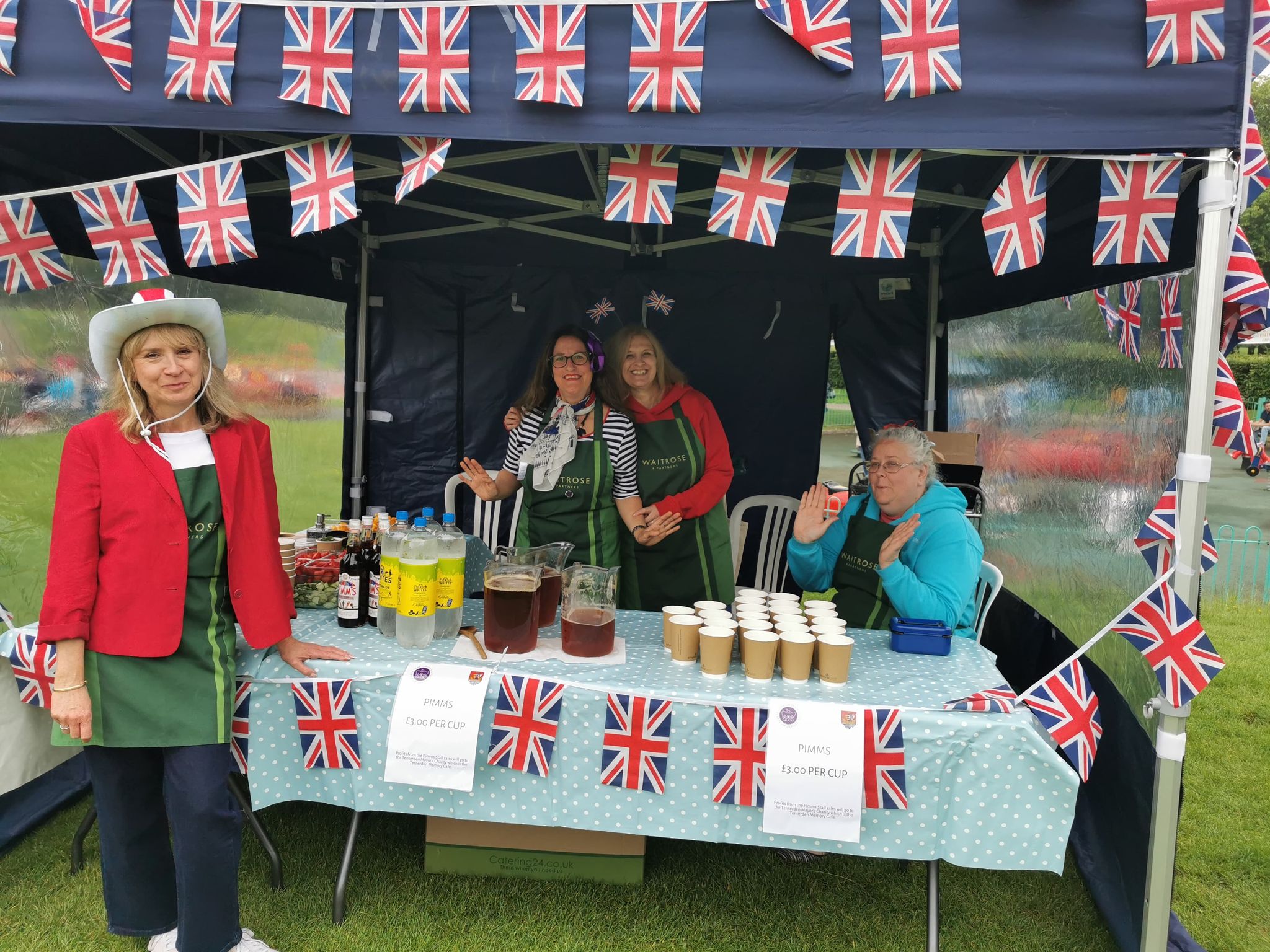 'ALL THE QUEEN'S HORSES' - A UNIQUE EXHIBITION BY THE STEVENSON BROTHERS
Last Wednesday, 1st June 2022, we invited the Stevenson Brothers to exhibit "All the Queens Horses" in the Town Hall to celebrate Her Majesty the Queen's Platinum Jubilee.
The Town Hall Assembly Room was an ideal exhibition centre to show off the remarkable achievements of Marc and Tony Stevenson. The replica exhibits of the rooking horses present to Her Majesty the Queen were amazing. The craftmanship and detail of each and every horse was incredible.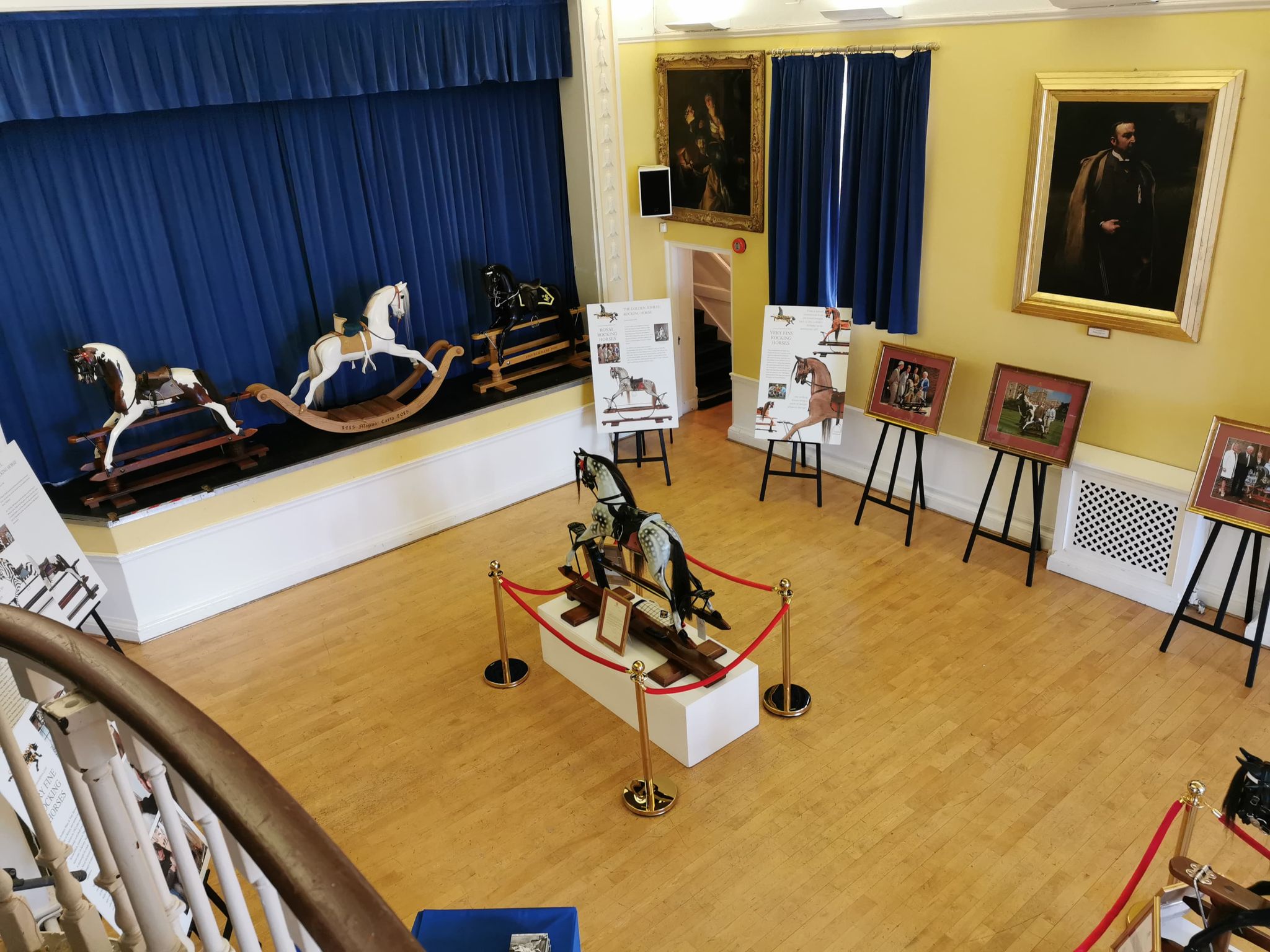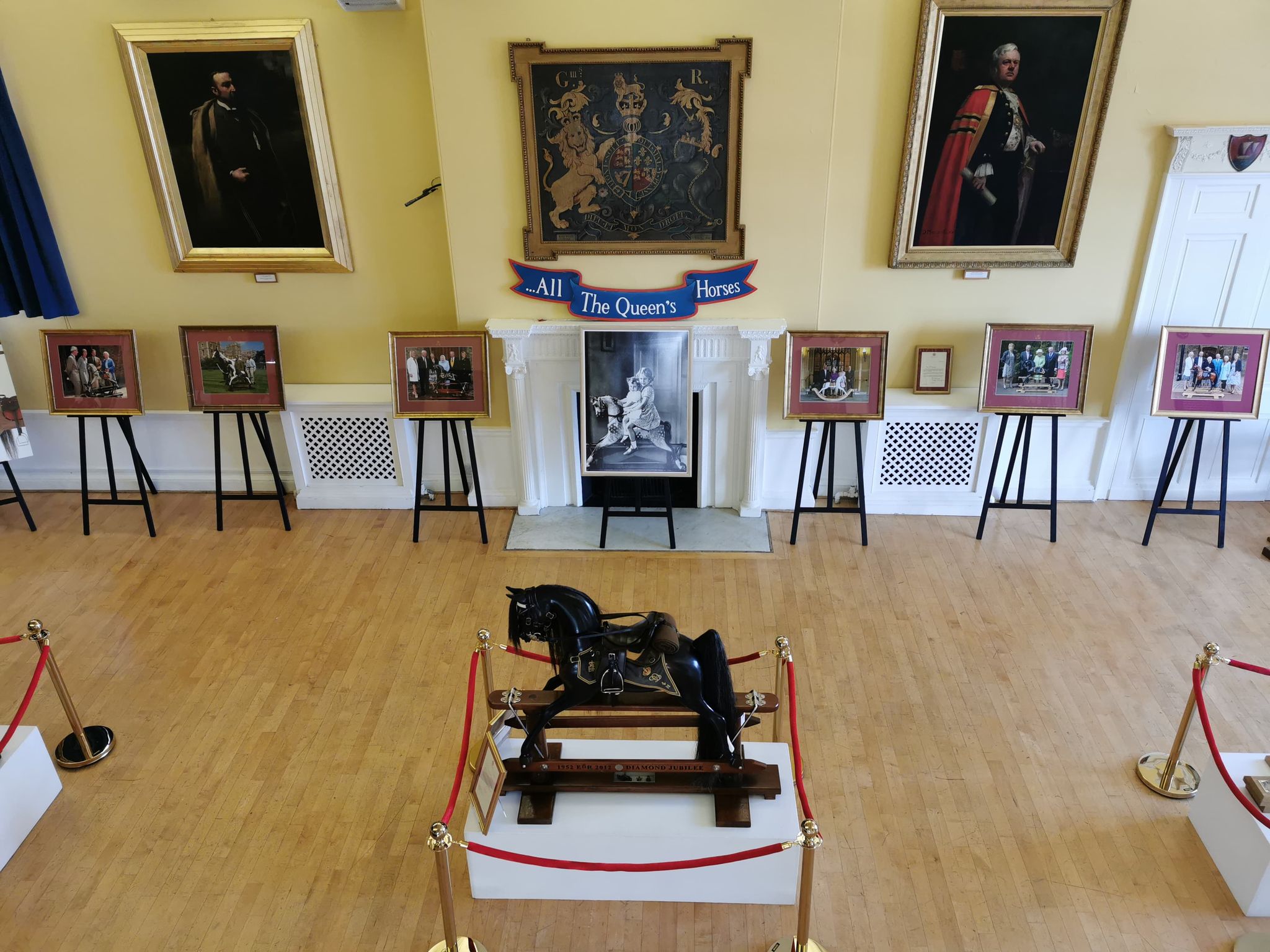 It was a pleasure to invite Terry Pendry LVO (Lieutenant of the Royal Victorian Order) BEM (British Empire Medal) the Royal Head Groom to attend, who thoroughly enjoyed the display. We were so pleased he was able to join us the night before the Queen's "Trooping the Colour", to mark the official birthday of the British Sovereign with 1,400 parading soldiers, 200 horses and 400 musicians.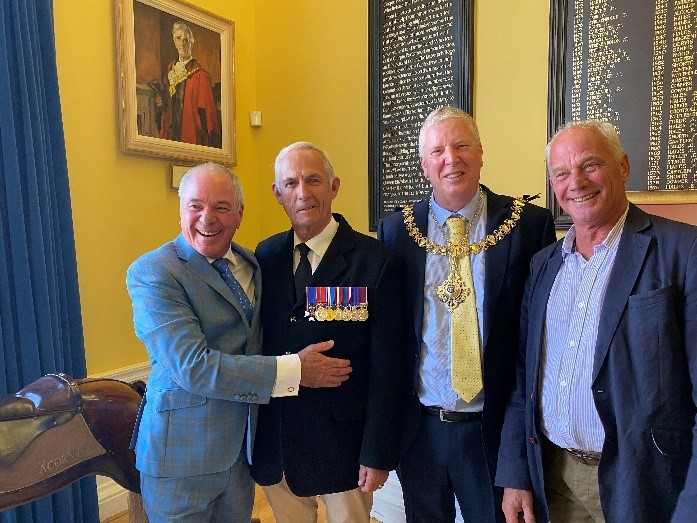 Marc and Tony Stevenson who are based six miles away at Bethersden, opened the exhibition. They opened their business in 1982 and their success has led them to attend Trade Fairs in London, Germany, New York and Sydney. In 1997 they were awarded Kent Export of the year.
In 2002 they wrote to Her Majesty the Queen offering to create a special rocking horse to celebrate their 20 years in business and her 50th year as Queen. This was the start of the Royal Collection with the "Dapple Grey" carved in tulip wood. Many more rocking horses were created for the Queen with the latest being the "Barber Shop", the last horse bred by the Queen Mother.
Cllr. Crawford Mayor of Tenterden opened the exhibition that held a unique selection of their fine work.
He highlighted that Marc and Tony are celebrating 40 years of rocking horse making and their team have made over 9,500 horses for a worldwide audience of children and grown-ups alike. Their most famous horse was a crystal studded rocking horse created in 2016 priced at $122,000. It is considered the most expensive rocking horse in the world.
Cllr. Crawford also thanked Richard and Leslie Balfour-Lynn, who own Hush Heath Winery for their contribution of two bottles of their special Cinque Port wine, which was raffled for The Mayor's charity 'Tenterden Memory Café'.
Over the four days over 1,700 people attended the magnificent exhibition.
Tenterden Town Council will be keeping an eye open for other major exhibitions that could take place in the Town Hall's Assembly Room.
~ ~ ~ ~ ~ ~~ ~ ~~ ~ ~~ ~ ~~ ~ ~~ ~ ~~ ~ ~~ ~ ~~ ~ ~~ ~ ~~ ~ ~~ ~ ~~ ~ ~~ ~ ~~ ~ ~~ ~ ~~ ~ ~~ ~ ~~ ~ ~~ ~ ~~
Poplar Choice: steam legend returns to rails in time for Jubilee
A much-loved steam locomotive – one of the original icons of the Victorian railway – has returned to the rails following major restoration, in time to lead the Kent & East Sussex Railway (K&ESR)'s Platinum Jubilee celebrations at the Best of British weekend (2-5 June).
London Brighton & South Coast Railway Terrier No 70 'Poplar' has been restored to the full glory of her heyday through a £150,000 project, including reviving the original ornate livery that she carried when first built in 1872. 'Poplar' re-joins sister Terrier No 2678 'Knowle', which is also based at the K&ESR, to resume pulling passenger trains, including services over the full Bank Holiday weekend.
Her first paid passenger service will leave the station at 11.45am on Thursday 2 June, accompanied by representatives of the railway, the Terrier Trust, the Borough of Ashford and Tenterden Town.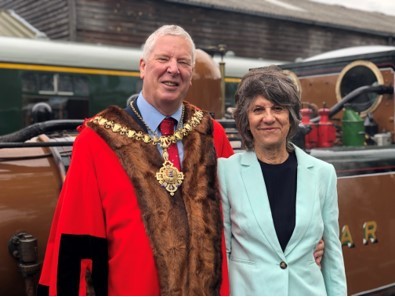 Tenterden Mayor Cllr John Crawford and Ashford Mayor Cllr Jenny Webb were invited to celebrate the return to service of the iconic Terrier No 70 "Poplar" locomotive.
Mayor Crawford said: "I should like to thank Mr Marsh of Kent & East Sussex Railway and Mr White of Terrier Trust for inviting me, along with other distinguished guests, to the formal launch of the rejuvenated and restored Terrier locomotive known as the "Poplar".
For a locomotive to have been originally built 150 years ago and now be back in service carrying passengers on the round trip to Bodiam Castle is a remarkable feat of workmanship. Our ancestors certainly knew how to engineer locomotives with quality materials that would last. The restored Poplar, together with the other five regular stream trains will last for a long time into the future. Over the years I have taken my grandchildren on the 10½ mile ride to Bodiam Castle on these steam trains. The best part is to see the smiles and excitement on their faces as we chug along through the beautiful countryside. It is not just train rides the community can enjoy, but I understand Kent & East Sussex Railway have a range of fantastic and unique experiences to indulge our childhood dreams. These include a footplate ride with the locomotive crew and an opportunity to work in the signal box. All these treats put Tenterden on the map as a special tourism town of which we are all very proud. In addition to our rejuvenated Terrier, we can, in two years' time, look forward to celebrating Kent & East Sussex Railway's 50 years of service. An event I will be very proud of."
~ ~ ~ ~ ~ ~~ ~ ~~ ~ ~~ ~ ~~ ~ ~~ ~ ~~ ~ ~~ ~ ~~ ~ ~~ ~ ~~ ~ ~~ ~ ~~ ~ ~~ ~ ~~ ~ ~~ ~ ~~ ~ ~~ ~ ~~ ~ ~~ ~ ~~
Weald of Kent Art Society exhibition, St Mildred's Church, Tenterden
On Sunday, Cllr John Crawford, Mayor of Tenterden opened the exhibition at St. Mildred's Church in Tenterden. Cllr Crawford said, "The 2022 Weald of Kent Art Society exhibition is taking place in St Mildred's Church, which itself is a piece of architectural art. We are very fortunate the Society is based here in Tenterden and has over 100 members from the surrounding villages and towns. It is good to see membership is open to both amateur and professional artists.
It's a sad fact that many people are reluctant to ever step into art galleries and museums as they may be considered to be intimidating or snooty.
However, in a relaxed atmosphere such as St Mildred's Church, people can wander around without any peer pressure or anxiety and enjoy the amazing pieces of work in a relaxed and leisurely fashion.
I am no art connoisseur, but I know instinctively what I personally like and would be prepared to hang on my wall. In the last 30 minutes I have seen some wonderful paintings. A prize will be awarded for the outstanding single piece of art on exhibit. You will be pleased to know I am not one of the judges.
We are very fortunate for the second year running, NFU Mutual Ashford are sponsoring the 2022 Art Prize."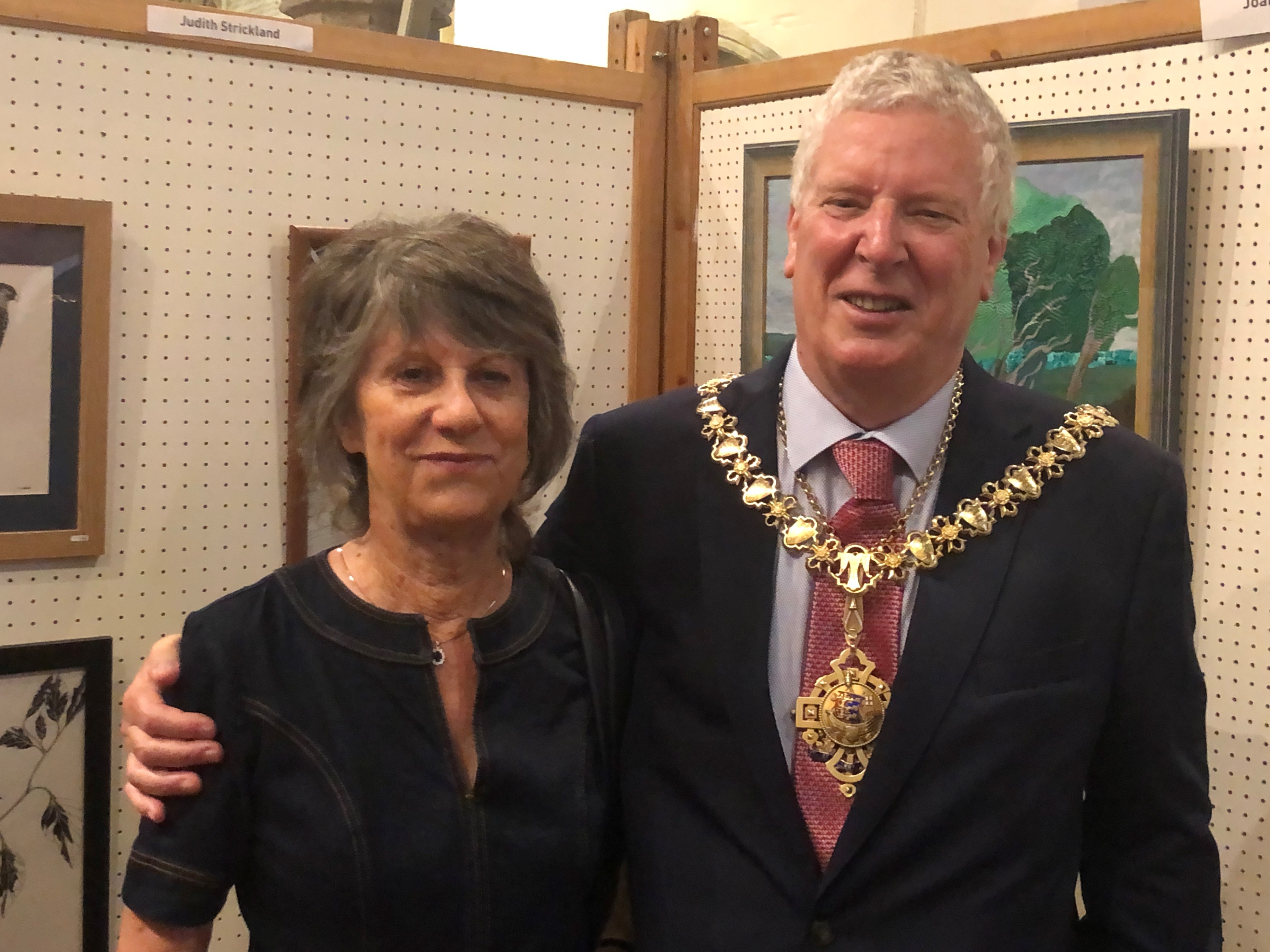 Graham Lock, the President of the Weald of Kent Art Society, said, "We were highly honoured to have the newly elected Mayor of Tenterden, Councillor John Crawford, officially open our 2022 Spring Art Exhibition. There was an excellent turn out to the Preview Evening on Sunday 22nd June and a great atmosphere in St Mildred's Church.
I would like to thank the Church for hosting the event and all the Committee and members for putting on an exhibition of such high quality. The icing on the cake was to have the Mayor conduct the Official Opening of the exhibition which now continues daily in St Mildred's Church until take down on the afternoon of Saturday 28th June."